The current pandemic has changed everyone's life over the past year. Work-at-home and homeschooling have become the new normal. Fewer of us are eating out, meeting in coffee shops, and having after-work cocktails with our buddies.
For many people, this pandemic has also robbed their peace of mind and created fear. They feel isolated and helpless.
Overall, the virus's impact has challenged us in ways both big and small. Yet in the midst of it all, we may be overlooking the number one killer that claims hundreds of thousands of lives every year. [1]
Heart Disease is Still the #1 Killer Worldwide [2]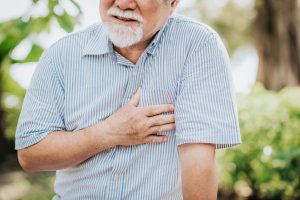 In America, someone has a heart attack every 40 seconds. Every 60 seconds, more than one American dies from a heart disease-related condition. [3]
Heart disease doesn't discriminate. Even though sometimes viewed as a men's health problem, an equal number of women and men die of heart disease. (3)
Other conditions can also increase your risk. People with type 2 diabetes, for instance, are twice as likely to have heart disease. The longer someone has had diabetes, the more likely they will have heart disease. [4]
Almost half of Americans have at least one of three big risk factors for heart disease: High blood pressure, high cholesterol, and smoking. [5] Work with your healthcare practitioner to address these factors.
You Have Control Over Heart Disease
At MaxLiving, we take an innate approach to heart health. That means removing whatever interferes with the body's innate intelligence and providing the correct support that allows the body to thrive.
That foundation is a healthy diet, which can dramatically reduce your risk of heart disease and support overall heart health.[6] We've taken the guesswork about what to eat with our Core and Advanced Plans.
Both plans contain plenty of delicious foods that provide the nutrients your heart and overall health demand. For more flexibility, choose our Core Plan. For more advanced conditions, such as reducing the inflammation that can contribute to heart disease, focus on our Advanced Plan.
Eat These Vegetables and Boost Heart Health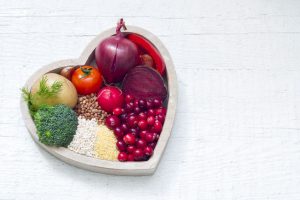 Want to lower your risk of heart disease, starting at your very next meal? Load up your plate with broccoli and other cruciferous vegetables.
Calcium buildup in the aorta, the body's largest artery, increases the risk of heart disease. People who eat more cruciferous vegetables have less calcium buildup in their aorta. [7] Our Broccoli and Cabbage Salad combines two crunchy cruciferous vegetables in one superstar side dish
Allium vegetables, especially garlic, also promote heart health.[8] Garlic can reduce blood pressure, lower markers of inflammation such as C-reactive protein (CRP), and provide other benefits for heart health. [9] Most studies focus on garlic supplements, but fresh garlic can also provide those nutrients.
With garlic, start slowly and work your way up to get the therapeutic benefits of several cloves. A delicious way to start is with our Sautéed Spinach, Kale, and Collard Greens Recipe, which combines three rockstar vegetables with garlic.
5 More Ways to Improve Heart Health
Pair our Core and Advanced Plans with these five strategies and you have a powerful foundation to support a healthy heart and reduce your risk of heart disease:
Even with A Healthy Diet, You Benefit From the Right Nutrient Support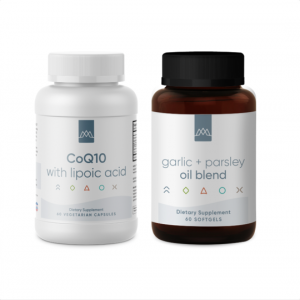 Even if you do eat a balanced diet, you may not be absorbing enough nutrients for a healthy heart and to reduce your risk of heart disease.
That's why we designed our Cardiovascular Wellness Bundle. The two unique formulas combine powerful ingredients that support a healthy inflammatory response, immune system, and antioxidant protection:
Garlic + Parsley Oil Blend contains a comprehensive blend of garlic oil and parsley oil, with highly bioactive compounds derived from garlic. Parsley oil also acts as a natural breath freshener. These softgels are enteric coated to reduce strong garlic odor and provide highly bioactive compounds.
Cardiovascular health and energy production are intrinsically linked. The muscle cells that produce energy require CoQ10 to stay healthy and strong. As we age, CoQ10 levels in our cells naturally decrease, leading to age related decline in strength and energy. CoQ10 and Lipoic Acid are powerful antioxidants that the body utilizes to target inflammation and free radicals. Inflammation is a key factor in the development of cardiovascular disease
Heart disease claims one in four deaths among Americans every year. [15] With the right support, including our Cardiovascular Wellness Bundle, you can dramatically reduce your risk while supporting a healthy heart.
Work with your healthcare professional to regularly monitor blood pressure and other risk factors for heart disease.[16] This worksheet, designed to use with your healthcare practitioner, provides a comprehensive foundation for heart health.


About the Author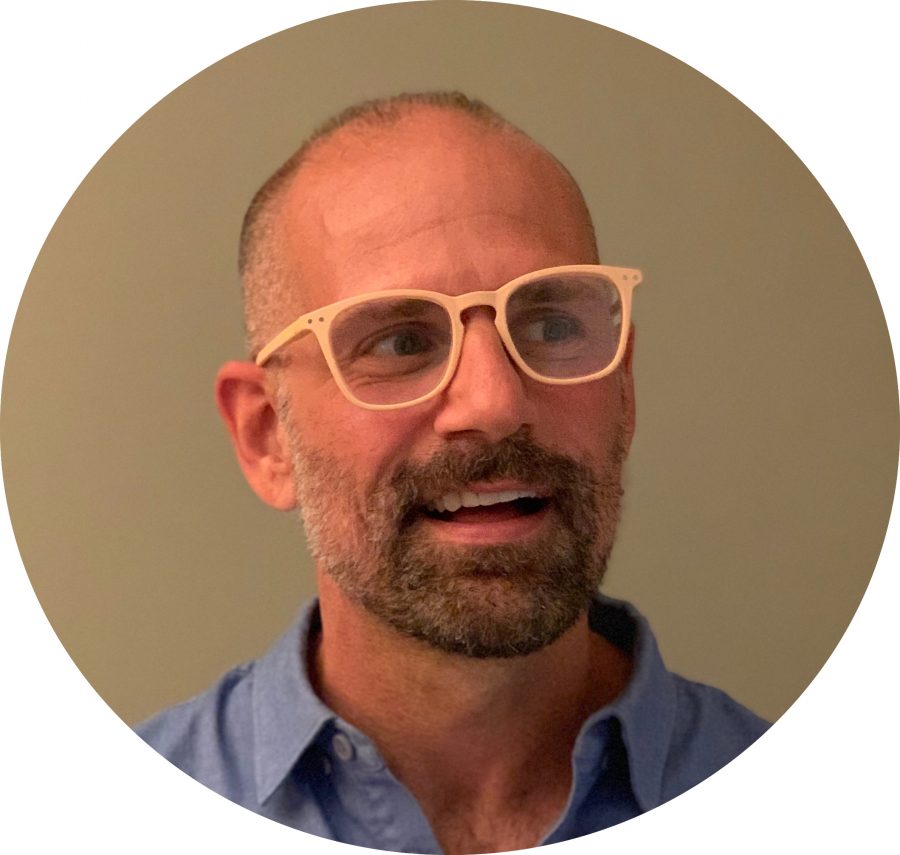 Jason Boehm is a Chicago, IL-based nutritionist and science writer. He combines his two Master's Degrees in Mass Communication and Nutrition to help others achieve their wellness goals through science-based, engaging written content.
References
[1] https://www.cdc.gov/heartdisease/facts.htm
[2] https://www.cdc.gov/heartdisease/facts.htm
[3] https://theheartfoundation.org/heart-disease-facts-2/
[4] https://www.cdc.gov/diabetes/library/features/diabetes-and-heart.html
[5] https://www.cdc.gov/heartdisease/risk_factors.htm
[6] https://www.ncbi.nlm.nih.gov/pmc/articles/PMC6713921/
[7] https://pubmed.ncbi.nlm.nih.gov/32674743/
[8] https://www.merriam-webster.com/dictionary/allium
[9] https://pubmed.ncbi.nlm.nih.gov/26764327/
[10] https://www.ncbi.nlm.nih.gov/pmc/articles/PMC6712750/
[11] https://pubmed.ncbi.nlm.nih.gov/19119685/
[12] https://www.cdc.gov/bloodpressure/sleep.htm
[13] https://www.health.harvard.edu/heart-health/how-much-exercise-is-optimal-for-heart-health
[14] https://www.sciencedaily.com/releases/2007/03/070315161129.htm
[15] https://www.cdc.gov/heartdisease/facts.htm#
[16] https://www.ahajournals.org/doi/10.1161/CIR.0000000000000950