If you are a parent, soon-to-be parent, or expecting your first born, the world your children live in today, requires an ever-increasing amount of guidance. As much as the early childhood years require our parental attention, we will focus on the pressing issue of childhood obesity.
As guardians of better health and fitness, MaxLiving believes solving this problem is fundamental to building a healthier population. Added pounds often result in health problems later in life such as diabetes, high blood pressure, high cholesterol, poor self-esteem, and depression.
In this article, we provide you a simple step-by step plan that will help you raise healthy and happy children, as well as how to stop the progression of childhood obesity before more children are faced with health problems in adulthood.
How Obesity Has Become a Problem For Kids in the US
In the United States, obesity in childhood and adolescence has become a serious public health concern. In the last 25 years, the childhood "obesity epidemic" has particularly exploded. According to the Centers for Disease Control and Prevention here are the latest facts.[i]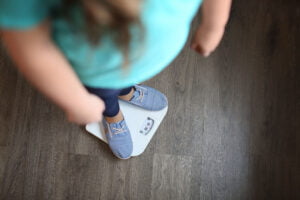 Obesity incidence for children and adolescents aged 2-19 years was 18.5% and affected about 13.7 million children and adolescents
Obesity incidence among 2- to 5-year-olds was 13.9%
Obesity incidence among 6- to 11-year-olds 18.4%,
Obesity incidence among 12- to 19-year-olds 20.6%.
MaxLiving's Parenting Guide to Raising Healthy Children
The following checklist is designed to review the lifestyle and environmental factors that are sure to shape your children's short- and long-term health outcomes well into adulthood. As you read on, look for ways to make incremental changes so that over time, these lifestyle factors can be reliably incorporated into your children's daily routine.
Nutrition/Diet Factors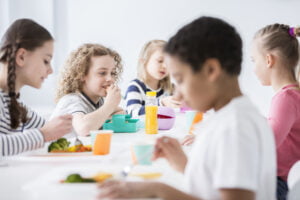 The goal for children who are overweight is to reduce the rate of weight gain while allowing normal growth and development. Note: Children should NOT be placed on a weight reduction diet without the consultation of a health care provider.
Food labels – parents must become familiar with food labels, so they don't blindly feed their kids foods that provide a lot of empty calories and sugar which cause wild blood sugar swings (hyperactivity followed by sleepiness). Here's a quick do and don't list of foods and beverages that will make your home rich in health-producing foods.
Include low-fat or non-fat milk or dairy products, including cheese and yogurt
Stock plenty of vegetables, fruits, and gluten-free products
Choose lean meats, poultry, fish, lentils, and beans for protein
Make filtered water your family's drink of choice
Limit sugary drinks, including fruit juices which are high in fruit sugar
Limit consumption of sugar and saturated fat
Make low-calorie snacks available – to limit empty calories, you need to have healthier alternatives like these low-fat and low-sugar snacks that are approximately 100 calories:
½ Cup Low Fat Cottage Cheese and ½ Cup Berries
1 cup carrots, broccoli, or bell peppers with 2 tablespoons hummus
6 ounces Plain Greek yogurt
1 String cheese (Part skim mozzarella)
One-fourth cup of tuna wrapped in a lettuce leaf
3 almonds and ½ Cup Low Fat Cottage Cheese
½ slice sprouted grain bread and 2 slices turkey
Exercise vs Sedentary Factors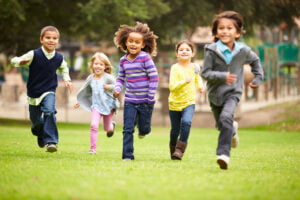 When it comes to activity – children and adults are creatures of habit. As a parent, your primary goal is to schedule activity time on your child's daily schedule. This is best done by limiting how much time they spend watching television or playing video games. Having your children earn TV and video game time based on meeting activity goals is a great system to teach them the value of good habits.
Time Management – The type and time spent exercising varies with age groups. The guidelines below provide a solid framework for success.
Children ages 3 through 5 years should be active throughout the day and include:

Playing hide and seek, tag or chase – mix it up with hopping, skipping, dancing and running
Playing catch or kickball – use small, medium and large rubber or nerf balls in different shapes
Doing chores together, cleaning floors, picking up toys, or washing the car
Get out for summer games such as swimming, Marco polo, running through sprinklers or down slides
Riding a tricycle or scooter
Children and adolescents ages 6 through 17 years should be physically active at least 60 minutes each day and include:

Aerobic activity, which includes anything that makes their hearts beat faster
Muscle-strengthening activities such as climbing, push-ups, sit-ups, and air squats
Bone-strengthening activities such as running or jumping
Weight training (age 14 or older)
Finally, remember that your kids will imitate you. Start adding physical activity to your own routine and encourage your child to join you. A great way to incorporate strength, cardiovascular, and resistance exercise in your family's lifestyle is the MaxLiving MaxT3 exercise system. This system uniquely works with the bodies natural metabolic system to positively influence how your body burns and stores calories. MaxT3 scientifically-based programs offer:
24 workouts and 80+ exercises
Exercise scaling in type, time, and tempo to meet the needs for individuals of different age and fitness levels
12-minute workout plans that fit into the busiest schedules for school, work, family, and social life
Click here to read how your kids can benefit from Chiropractic care and how this can also help them stay healthy from childhood through adulthood.


References
[i] Prevalence of Obesity Among Adults and Youth: United States, 2015–2016 Craig M. Hales, M.D., Margaret D. Carroll, M.S.P.H., Cheryl D. Fryar, M.S.P.H., and Cynthia L. Ogden, Ph.D.