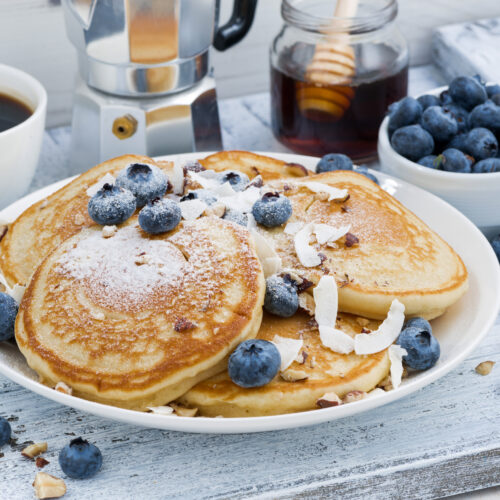 Coconut Pancakes with Blueberries
Delicious blueberries mixed in with the light flavor and airy texture of coconut flour will make this recipe your new favorite breakfast or snack!
Ingredients
1

pasture-raised egg

1⁄4

cup

coconut milk

1⁄4

cup

water

1⁄2

tsp

baking soda

1⁄4

cup

coconut flour

1⁄4

cup

fresh blueberries

1

tbsp

unsweetened shredded coconut

(optional)

1⁄2

tbsp

coconut oil
Instructions
In a large mixing bowl, combine the egg, coconut milk, water, baking soda, and coconut flour.

Whisk contents together just until blended and a good pancake batter is formed.

Be careful to not over mix.

Fold in the blueberries and coconut (if using) until incorporated.

Let batter sit for a couple minutes while you prepare the griddle.

Heat a griddle with coconut oil over medium heat.

When the oil has melted, pour 1⁄4 cup batter onto the griddle.

Fit as many pancakes on the griddle as possible without them touching and still allowing enough room to be able to flip each pancake with a spatula.

Let the pancakes cook for 3-4 minutes, then when bubbles appear along the surface, flip the pancakes and cook the other side for 2-3 minutes or until golden brown.