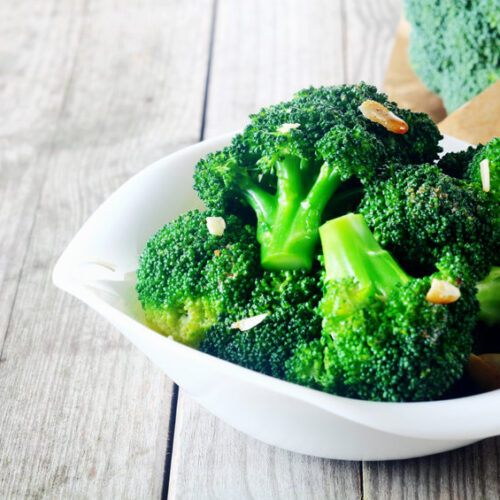 Boosted Broccoli
Broccoli is a super vegetable on its own full of vitamins and nutrients! But, when combined with the healthy omega 3's from anchovies, it is amazingly nutritious! When heated, the anchovies just melt into the sauce. Even if you're not a fan of anchovies, you'll love this dish!
Ingredients
4

anchovy fillets

2

tbsp

olive oil

1

head of broccoli

cut into florets

2

cloves garlic

thinly sliced

1

lemon

juiced
Instructions
Place the anchovy fillets in a small, cold skillet and slowly heat over low heat (do not overheat). You can use a fork to break up the anchovies as they heat. Once melted, turn off the heat.

In a separate pan, heat olive oil on medium heat (do not let it smoke) and add the garlic. Stir until light brown. Use a fork to take the garlic slices out of the pan and drain them on paper towels.

Transfer the melted anchovies to a small bowl and add 1 tablespoon of the garlic oil from the pan and the lemon juice. Stir until mixed.

Steam the broccoli over boiling water until just tender- no more than 5 minutes. Put broccoli in a serving dish with the fried garlic slices and the anchovy sauce.