Erb Family Wellness
Erb Family Wellness – Coppell just celebrated its 20th anniversary in 2018! This state of the art clinic is equipped with everything it takes for a patient to live the 5 Essentials of Health! Erb Family Wellness provides personalized Chiropractic and Wellness treatments for each of their patients, as well as, Intensive Spinal Corrective care for those who qualify! We have patients travel from around the world to receive our intensive spinal correction treatments, and thousands of local patients who also gain the tools necessary to continue their healing for a lifetime!
Erb Family Wellness – Coppell also is equipped with a Hyperbaric Oxygen Treatment Chamber, to expedite healing in the body, and a Far InfraRed Sauna, to increase the body's natural detoxification processes. These services, along with cutting edge blood and urine testing, full body Thermography testing, individualized nutrition programs, and of course our corrective spinal care, are what set Erb Family Wellness apart from all other Clinics! We have already changed the lives of thousands of people and are beyond excited to see how far reaching we can go!!
$75
NEW PATIENT
SPECIAL
COMPLETE EXAM
Hours of Operation
Monday:

7:30 am – 10:00 am 3:00 pm – 6:00 pm

Tuesday:

3:00 pm – 6:00 pm

Wednesday:

7:30 am – 10:00 am 3:00 pm – 6:00 pm

Thursday:

3:00 pm – 6:00 pm

Friday:

7:30 am – 10:00 am

Saturday:

9:00 am – 10:00 am

Sunday:

Closed
About
Erb Family Wellness – Coppell, TX
Meet The Team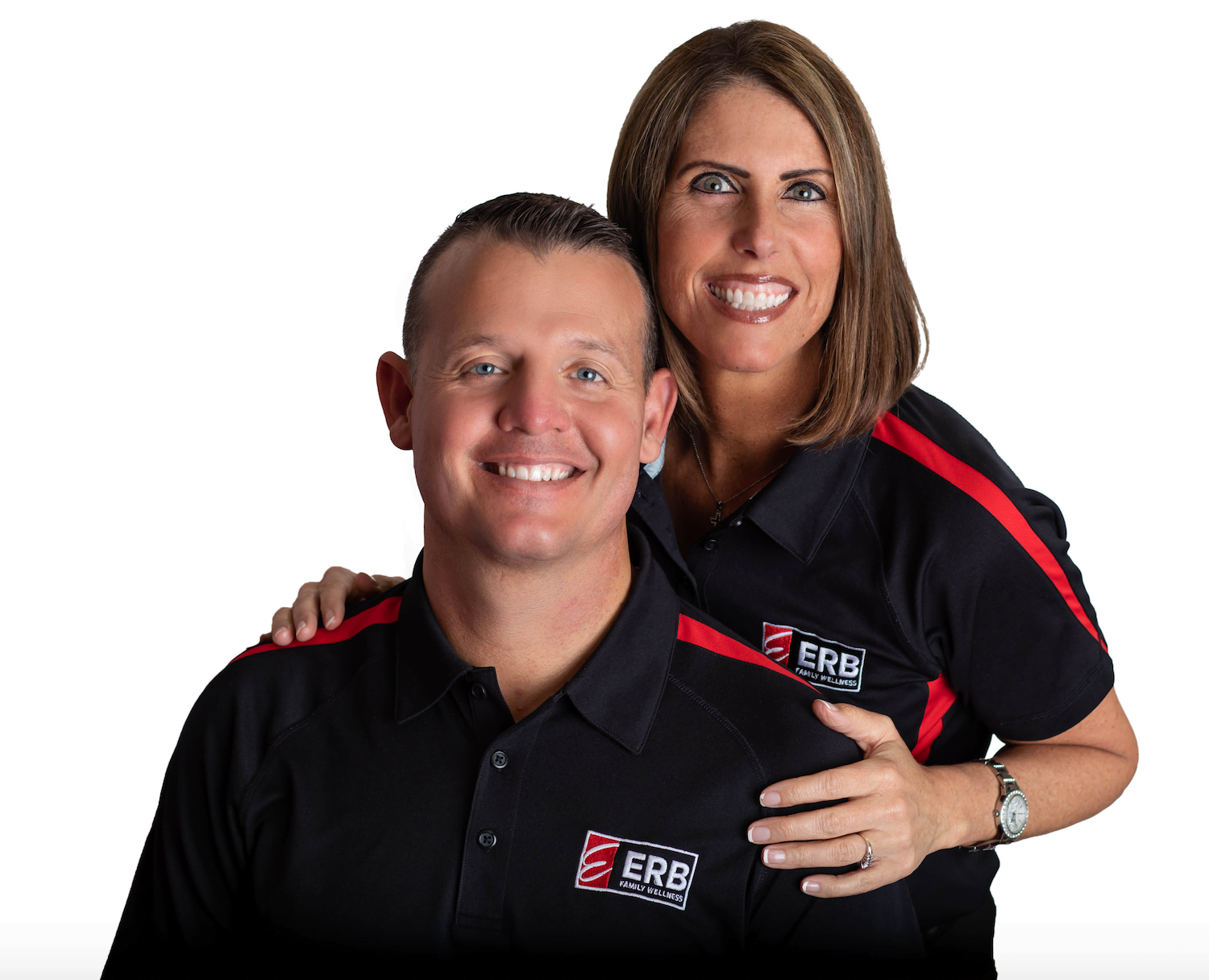 Dr. David Erb and Dr. Kimberly Erb
Doctor of Chiropractic D.C., CCCN, DACNB
Drs. David and Kimberly Erb have been in practice for over 20 years and have offices in Coppell and Southlake, Texas. In 2010, they opened a clinic in Zimbabwe, Africa where they cared for thousands. In 2012, they were two of the elite chiropractors invited to the London Olympics by the USA Wrestling, USA Judo, USA Weightlifting, and Paralympic USA Sitting Volleyball Teams! They have three amazing children and reside in Coppell, TX.
Together Drs. Erb hold multiple degrees, certification and specialties in Chiropractic, Neurology, Nutrition, Pediatric & Prenatal Chiropractic Care, Neurotoxicity, Whiplash & Traumatology, as well as, Advanced Spinal Correction.
Dr. Kimberly coaches and cares for thousands of patients and doctors around the world with cutting edge blood and urine testing, called Metabolix, that customizes individual nutrition as well as removes harmful toxins from the body. She is also trained in full body Thermography testing that assists in detecting the cause of disease.
Dr. David and Kimberly are passionate, internationally sought-after speakers, trainers, and coaches. They hold seminars on topics of weight loss, brain, autoimmunity, cancer, hormones, fitness, and much more; always striving to empower people to reach their full potential in every area of their lives.
Drs. Erb provide an environment of hope to patients from 1 day old to 100 years old, striving to bring what their patients call, "The Greatest Place of Hope and Healing," to as many people possible around the world!
Rebecca Gugeler
Office Manager
I've been with Erb Family Wellness since February 2014. I've witnessed many miracles in our office, but personally, my biggest miracle was the birth of my beautiful daughter. This was especially incredible because I was told having children would be very difficult or not possible at all, but after working with the Erb's and being under care with the 5 Essentials, I now have a beautiful daughter!
I love being able to help and see people get their lives changed for the better. It's truly amazing walking through people's transformations with them and being there to celebrate all of their victories on their path to good health. I am forever grateful to the experiences I've been through and witness by being a part of the MaxLiving Mission and apart of the Erb Family Wellness Team!
Giovanna Prather
Chiropractic Assistant
I've been with the Erbs' since March 2015 and love being able to help people change their lives and see miracles happen daily. Personally, my family's lives have changed for the better; we are more conscious about the food we eat and have a complete understanding of what the central system does and that WE have the power to heal ourselves!
I've seen countless patients change their lives for the better, walking without canes, allergies gone, headaches gone and illness reversed!! It's been an amazing journey so far!
Bryna Hayth
Marketing C.A.
I have been a part of the MaxLiving family since February 2011! Having a degree in Health and Exercise Science I have always been active and thought that I ate well; but MaxLiving takes health to an all new level with the 5 Essentials and their wonderful patient education! I've been to over 80 workshops, and I still come away with something new learned and restored confidence in my power of choice when it comes to what I put into my body and how I take care of it! After applying the principles of the 5 Essentials, I was able to get off all Hypothyroid medications and restore my thyroid health!
Currently, I am responsible for all the social media tasks in the offices!! So, if you haven't already, please go to our Coppell and Southlake facebook pages, follow & like us, and keep sharing our amazing posts and videos, so we can continue our mission of spreading true health all around the world!
Blog
Reviews
This clinic is owned and operated by Erb Family Wellness, a MaxLiving
Partner