North Star Family Chiropractic
We believe that being a MaxLiving chiropractor is more than someone who just helps people feel healthy. Through high-quality chiropractic and corrective care, combined with the 5 Essentials™, we're here to empower patients with both knowledge and healing. Trust that your health is in expert hands.
Hours of Operation
Monday:

7:30 am – 10:00 am
2:30 pm – 5:30 pm

Tuesday:

11:00 am – 1:00 pm

Wednesday:

8:00 am – 10:00 am
3:30 pm – 5:30 pm

Thursday:

2:30 pm – 5:30 pm

Friday:

7:30 am – 10:00 am

Saturday:

Closed

Sunday:

Closed
About
North Star Family Chiropractic – Woodbury, MN
Meet The Team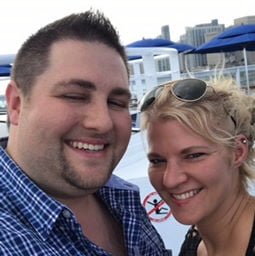 Dr.'s Jeremy & Jenn Bischoff, D.C.
Doctor of Chiropractic
Dr.'s Jeremy & Jenn opened North Star Family Chiropractic, a MaxLiving clinic, about 11 years ago (Nov. 2009) and have been serving the east metro ever since. After graduating from chiropractic college, they trained in Chicago for 8 months to learn the 5 essentials that they still teach today. They are trained in advanced spinal correction and advanced nutrition.
They have a very large family practice. They see healthy families that want to stay healthy as well as families that have been led down the wrong health path ready to get their health back. They see lots of pregnant women and babies and really see people of all ages, from hours old all the way to 100. They are extremely passionate about helping people reach their highest God-given health potential. Their goal is that people have hope and joy throughout life and are empowered to live the life they were meant for.
Dr. Jeremy has been the team chiropractor for many high school and college athletic teams and individuals, including Concordia volleyball. He still serves a number of athletes and teams. He has been the team chiropractor for the Northland bulls Semi Pro football team for 6 years. Both Dr.'s Jeremy & Jenn are part of the wellness advisory council for some of the US Olympic teams. In 2012 they were part of the elite group of chiropractors invited to the London Olympics by the USA Wrestling, USA Judo, USA Weightlifting, and Paralympic USA Sitting Volleyball teams.
The Dr.'s teach many seminars to small and big businesses on a variety of topics. They also set up corporate wellness events to help keep people healthy in the work field. They teach on things like, weight loss, autoimmunity, cancer, hormone imbalances, fitness, stress management, and many more.
When they aren't serving the community, they are spending time with family doing as much as possible outside, especially in the spring, summer, and fall months. The Dr.'s have 2 extremely fun and busy children, ages 13 (Marnie) and almost 2 (Jameson). Charlie is the other member of their family…..their dog. They love to travel and take mini family trips. They also have guinea hens and chickens to help with the insect and tick population since they live out in the country in Hudson. And being the huge packer fans that they are and cheese lovers it only makes sense that they had to live in Wisconsin.
Blog
Reviews
This clinic is owned and operated by North Star Family Chiropractic, a MaxLiving
Health Center