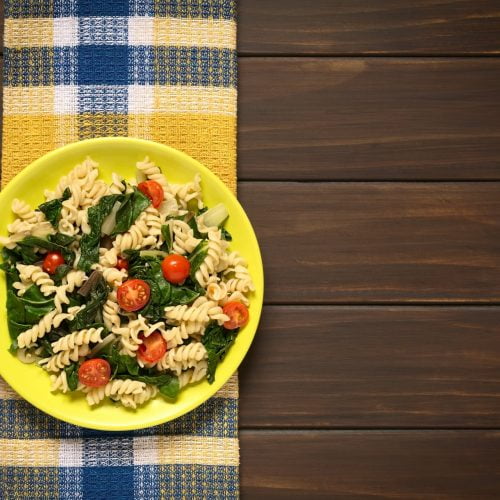 Sweet Curry Kale Pasta Salad
You will not believe that this salad is Advanced Plan! The pasta is made from 100% organic red lentils and nothing else. The flavored vinegars and oils mentioned below come locally and can typically be found at a market or health food store.
Ingredients
Salad
12

oz.

kale

cleaned, ribbed, cut

¼

cup

lemon or lime juice

fresh squeezed

¼

cup

garlic infused olive oil

(or olive oil)

¼- ½

tsp

sea salt

to taste

fresh ground black pepper

to taste

1

tsp

curry powder

⅛- ¼

tsp

stevia

to taste

2

tbsp

sesame seeds

¼

cup

slivered almonds

or other raw nuts
Pasta Salad
4

cup

dry red lentil pasta

½

tsp

sea salt

30

oz

black beans

organic, drained and rinsed

⅓

cup

white balsamic vinegar

(or other balsamic vinegar)

⅓

cup

garlic infused olive oil

or olive oil

2

tbsp

additional garlic infused olive oil

¼

tsp

sea salt

fresh ground black pepper

½

small head of green or red cabbage
Instructions
Put kale in a large bowl and drizzle the lemon or lime juice over it. Set aside.

Come back periodically over the next 20 minutes to 2 hours to toss the kale. Alternately, you may also refrigerate the kale/juice mixture for up to a day and come back to toss periodically.

If you add other ingredients in as little as 20 minutes, it will still be very yummy, but the flavors will continue to improve over time.

When ready to add other salad ingredients, add them in the order listed and sprinkle each item over all the kale, stirring after addition of oil, and then again after the last ingredient.

Taste-test and adjust seasonings to your liking.

The kale will be ready by the time you have everything else put together.

Put the drained, rinsed beans into a medium bowl, sprinkle with the salt and pepper, mix.

Next add the 1/3 cup of vinegar and 1/3 cup of garlic olive oil and toss. Periodically toss this mixture also while assembling the remaining ingredients. 

Next cook the pasta according to package directions, adding 1/2 teaspoon sea salt to the water. Do not overcook!

Drain and rinse, and return to the original cooking pot and let soak in cold filtered water (may add a few filtered ice cubes as well) until the pasta cools. 

While the pasta cools, clean and slice the cabbage very thin using a knife, food processor slicing tool, or mandolin.

Drain the cooled pasta, toss with the additional 2 tablespoons of garlic olive oil, and add to the kale salad.

Next put the sliced cabbage on top of the pasta, followed by the marinated black bean mixture.

Toss, taste-test, adjust seasonings if necessary, and enjoy!
Notes
You can have fun with other variations of this salad adding other seed or nuts, or changing the flavor of  the vinegar and oils.