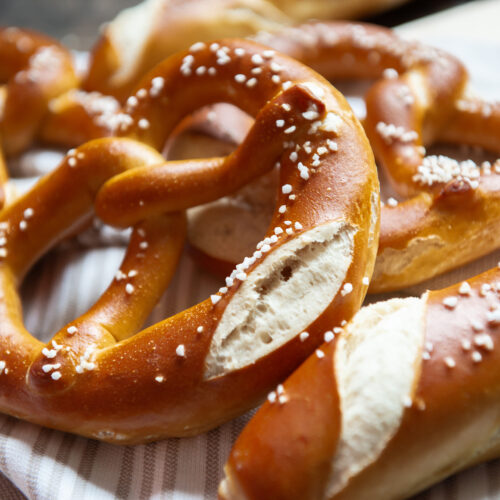 Soft Pretzels
These are gone only minutes after they are baked. Our kids love them. Best served fresh and hot, and with mustard for dipping.
Ingredients
11

cups

water

3

cups

whole-wheat flour

(finely-sifted)

2

tbsp

olive oil

1

tbsp

honey

2

tsp

instant yeast

1

tsp

sea salt

2 1⁄2

tbsp

baking soda

coarse salt

to taste (optional)
Instructions
Put all wet ingredients (1 cup of water along with the olive oil and honey) in bread machine pan.

Add dry ingredients (flour, yeast, salt) to the pan, adding yeast last.

Select "dough" setting.When dough is done, remove from bread pan and place onto an oiled countertop.

Gently roll and stretch dough into 12-inch ropes.

With a sharp knife, divide dough into four or five equal pieces.

Roll each piece into 14-inch ropes.

Set aside pretzels on oiled countertop, cover with a towel and let rise, until doubled in size or about 20 minutes.

Meanwhile, in a large pot, bring 10 cups of water and baking soda to a boil.

Reduce heat to a gentle simmer. Preheat oven to 425 F.

Gently lift pretzels on a slotted spoon into water for 20 seconds.

Turn over and repeat for 20 seconds.

Remove from water and place on rack, allowing dough to drain.

After all are done being soaked, bake on a cookie sheet for 15-20 minutes or until golden brown.