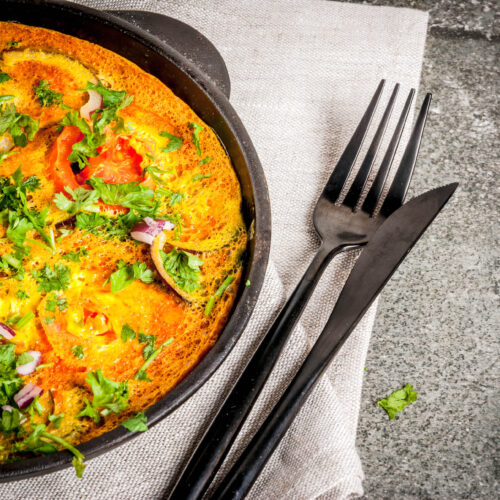 Coconut Milk and Curry Frittata
Ingredients
7

Organic, pasture- raised eggs

1/2

Red onion (finely diced)

2

cups

Fresh Spinach (chopped)

1/4

cup

Coconut milk

2

tbsp

Tomato paste

1

tbsp

Curry powder

1

tbsp

Coconut oil

Himalayan sea salt, to taste
Instructions
Heat the coconut oil in a medium sized skillet, add the onions, and cook until the onions begin to caramelize.

While the onions are cooking, whisk together the eggs, coconut milk, tomato paste, curry powder, and salt.

Add the spinach to the onions and oil and cook until the spinach is wilted.

Evenly spread the onion and spinach mixture over the bottom of the skillet and pour in the egg mixture.

Cover and cook over medium low heat for 4 minutes.

Transfer the frittata to the oven and cook under the broiler, uncovered, for another 2–3 minutes or until the frittata is cooked all the way through.

Cut into wedges and serve.