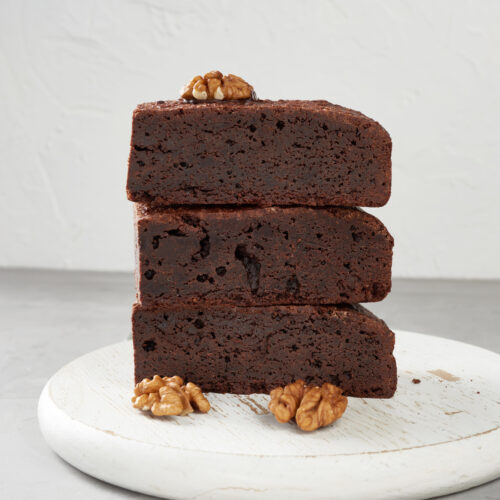 Chocolate-Avocado Brownies with Walnuts
Satisfy your sweet tooth with these delicious guilt-free chocolate-avocado brownies. This delicious recipe is sure to be a hit!
Ingredients
3⁄5

cup

almond meal

1⁄4

cup

unsweetened cocoa powder

1⁄2

tsp

baking powder

1⁄2

tsp

sea salt

3

tbsp

coconut oil

1

tsp

vanilla extract

2

pasture-raised eggs

large

2

ripe avocados

large

8

ounces vegan/allergen-free dark chocolate

70% or higher—and chopped (Enjoy Life, Alter Eco, Kallari, etc.)

1

tbsp

stevia powder extract

(or 18-24 Stevia packets), or to taste

1⁄2

cup

walnuts

chopped
Instructions
Line an 8 x 8-inch baking pan with aluminum foil—enough so that the foil hangs over the sides of the pan.

The over- hanging foil will later act as handles, making it much easier to remove the brownies from the pan, in order to cut them.

To begin, place the chopped chocolate and coconut oil in a microwave- safe bowl and heat in 15-30 second intervals, stirring between each interval with a wooden spoon, until the coconut oil and chocolate are completely melted and smooth.

Stir the mixture well to blend.

Let the coconut oil-chocolate mixture rest at room temperature for 5 minutes.

Meanwhile, peel the avocados, remove/discard stones, and place the avocado flesh in a large mixing bowl.

Mash the avocado until smooth.

Next, stir the coconut oil-chocolate mixture in with the mashed avoca- do, and stir to blend.

Next, stir in the Stevia powder extract (or packets) until completely incorporated.

Then add the eggs—one at a time—then finally, stir in the vanilla extract.

In a separate bowl, first sift in the cocoa powder.

Then stir in the almond meal, sea salt, and baking powder.

Then add the dry mixture to the avocado mixture, and stir with a wooden spoon just until combined.

Fold in the walnuts, and then add the brownie batter to the prepared baking pan, and spread out to fill the pan,smoothing the top of the batter with a rubber spatula.

Place the pan in the preheated oven, and bake for 25-28 minutes or until a toothpick inserted into the center of the brownies comes out clean.

Remove from oven, and let the brownies cool in the pan for 10 minutes.

Hold the foil on either side of the pan, and carefully lift the brownies out of the pan.

Transfer the foil to a wire cooling rack, and allow the brownies to cool some more before slicing and serving.

Store the remaining brownies in an airtight container at room temperature (or in the refrigerator, if preferred) until needed as directed throughout the 30-day meal plan.