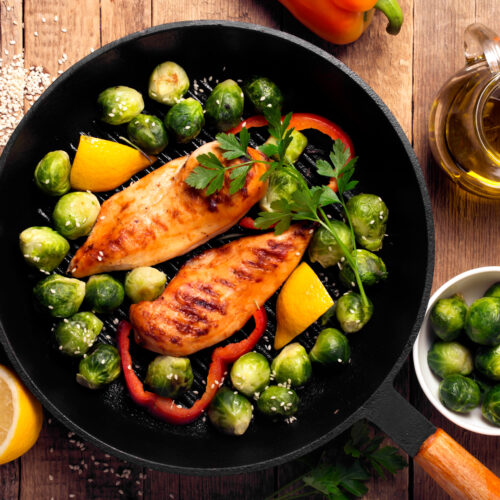 Baked Chicken and Sautéed Brussels Sprouts
Ingredients
2

2 (4-6 ounces) free-range boneless, skinless chicken breasts

4

tbsp

extra-virgin olive oil

divided

2

tbsp

lemon juice

divided

1⁄2

tsp

salt

or to taste

1⁄4

tsp

fresh ground black pepper

divided

1⁄8-1⁄4

tsp

tarragon

(optional)

1

tsp

dried parsley

divided

4

cups

small brussels sprouts

1

tbsp

extra-virgin olive oil

(plus more for rubbing)

1⁄8

tsp

fresh ground black pepper

(to taste)

1⁄4

tsp

sea salt

(to taste)

1⁄4

cup

preferred raw cheese

finely grated
Instructions
Rinse the chicken breasts in cool running water; cut off any visible excess fat, and place the chicken breasts in a baking dish.

Season the chicken with sea salt, black pepper, and the tarragon (optional).

Drizzle 1⁄2 tablespoon lemon juice and 1⁄2 tablespoon olive oil over each chicken breast.

Then top each breast with 1⁄2 teaspoon dried parsley, and 1⁄2 tablespoon more of lemon juice.

Place the chicken in the preheated oven, and bake for 35-40 minutes or until the chicken is cooked through and juices run clear (the chicken should reach an internal temperature of 165°F).

When the chicken is nearly finished baking, prepare the Brussels sprouts.

Wash the sprouts well, and remove and discard any outer leaves.

Slice each sprout in half lengthwise from the stem to the top of the sprout, then brush the halves with 3 tablespoons of the olive oil, or as needed.

Place a large sauté pan over medium heat.

Add in the remaining 1 tablespoon olive oil, and allow it a couple of minutes to heat up just a little, then lay the Brussels sprouts in the pan, flat half facing down.

Sprinkle the sprouts with sea salt and black pepper.

Allow the sprouts to sauté, moving the sprouts around, so they do not stick to the pan.

Sauté 3 to 5 minutes or until the flat side of the sprouts turns lightly golden brown and is fork-tender. (Make sure you can pierce the fork completely through the sprouts.)

Once fork tender, turn up the heat to high, and cook for 2 to 4 minutes or just long enough for the flat sides of the sprouts to become caramelized and a deep golden brown.

Then begin tossing/stirring and moving the sprouts around to gain a little bit of browning on the rounded sides as well.

Transfer 1 1⁄2 cups to a serving dish, and sprinkle on a bit more sea salt and black pepper, if needed, and then finally, sprinkle the finely raw grated cheese over the sprouts.

Serve alongside the baked chicken and enjoy!

Let the remaining chicken and sprouts cool completely at room temperature.

Then store in sealable containers in the refrigerator to serve as lunch the following day.

When ready to serve, just remove from the refrigerator and reheat!