The holidays are a wonderful time to take a break from our normal routines, appreciate our blessings, and connect with family and friends.
As food is a central part of many gatherings, here are some tips for keeping your holiday meals healthy, and budget friendly too!
Watch for sales
Keep an eye on your local stores sales and specials, and buy things when they are at the best price. If your store offers buy one get one free or other deep discounts, that's a great time to stock up on staples. Many fresh items can be frozen so they're at their peak when you're ready to use them.
Check out your local wholesale club's organic selections as well – many have increased their natural and organic offerings over the past few years.
Look to see if your grocery store has an app for an easy way to find the latest specials, and compare prices between stores.
Make it homemade
Many things are either budget friendly OR good for your health, but cooking your meals homemade gives you the advantage of both! When you have control of what goes into your food, you can customize it to your personal dietary needs and preferences. You also save in cost over buying premade and processed foods.
When you do make a homemade meal, double it whenever possible and freeze half to pull out on a day when you don't have time to cook – this can be a lifesaver on days when you're too busy to cook.
Don't do it all
If you're cooking for a big group, have everyone pitch in! This can save you time and help your grocery budget go farther.
Someone could bring drinks, someone a side dish, someone else dessert. If not everyone on your guest list is on the same page as you concerning health, consider asking them to bring paper products or something non-edible.
Provide plentiful vegetables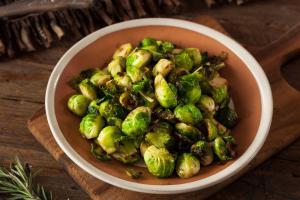 The seasonal vegetables of autumn and winter offer so many delicious flavors. Make a butternut squash soup by roasting cubed squash with onion and blending with chicken broth and a splash of almond milk. Roast root vegetables with chopped beets, sweet potatoes, onions, carrots, parsnips, and herbs. Make a salad loaded with greens, beets, roasted nuts, and a fresh dressing. Brussel sprouts can also be prepared in delicious ways. Try MaxLiving's Delicate Brussel Sprouts Sauté Recipe!
When you provide plenty of healthy options, the temptation to fill up on less nutritious ones is much lower. You may consider including fruits, nuts, deviled eggs, and other nutritious options in your holiday meal plan too.
Indulge in Moderation
Everyone has their personal favorites they love to indulge in during the holidays. Whatever your favorite holiday treats are, make just enough to enjoy it, but not overdo it. That way you don't end up with leftovers that you find yourself eating for a week, but you do get to enjoy the special dishes that are only for the holidays.
Set aside extra grocery money when you have it
Many of us find that as much as we try to stick to a budget, shopping for our holiday groceries goes beyond what we normally do. If possible, plan ahead when you make your Christmas budget to allot whatever extra you need for groceries towards the end of the year.
Have an active celebration
In a season that can become too busy for regular exercise, find ways to stay active while having fun together as a family. Take an after dinner walk to enjoy your neighborhood's Christmas decorations. Play football as a family – use flags or two-hand touch. Kids love a Christmas dance party as well!
Stay inspired
In every season, surround yourself with healthy influences. Follow natural minded accounts on social media. Even better, subscribe to email newsletters from trusted natural health sources, so you don't miss anything important. Read books for deeper inspiration and information.
May your holidays this year be filled with health and life!
Click here to read more articles on staying healthy over the holidays.