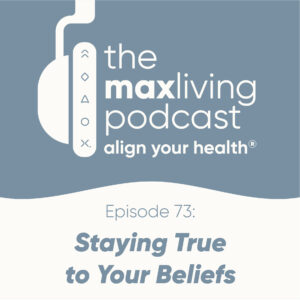 As we approach the holiday season in the coming months, you may start to feel more stressed, but that doesn't mean you have to let it take control of your life. Host, Dr. Ryan says that stress comes from "anchoring to our emotions… and unmet expectations." Rather than letting your emotions get to you, you have to start putting more trust in your truths. Listen to today's new episode of The MaxLiving Podcast to learn how Dr. Ryan and Ashley Berlin avoid stress by staying true to their beliefs.
"We possess the power to do so much, and we're stressed out by so little," says Ashley. Instead of letting the little things in life stress you out, stay true to your beliefs and remind yourself that the body has an incredible ability to heal itself. The next time you find yourself worrying, take a step back and try to look at the bigger picture. Does this stress align with your values, or do your values overcome it? Will the thing you're worried about affect your life in 10 years, or is it no big deal? Be sure to listen to the full episode for more tips on how to stay true to your beliefs.
Want more of The MaxLiving Podcast? Listen to our previous episodes on Spotify, Apple Podcasts, or any other podcast platform!
*Please note: the information shared on this podcast are the opinions/views of the hosts.
The contents of The MaxLiving Podcast and website are strictly for educational purposes and are not intended to be a replacement for professional medical advice, diagnosis, or treatment. Never ignore professional medical advice because of something you heard or read on The MaxLiving Podcast or website. If you have a medical emergency, call your doctor or 911 immediately.
Chiropractic Resources