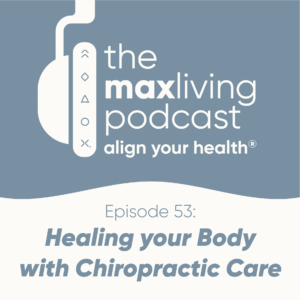 Healing Your Body with Chiropractic Care
Everyone deserves to live a healthy life where they can function at their full potential. Why is it though that so many of us live with health issues and don't do anything about it until it's too late?
In today's episode of The MaxLiving Podcast, guest host and MaxLiving Dr. Marc Surprenant and Dr. Neil Cohen of Sherman College of Chiropractic, discuss healing your body with chiropractic care.
When it comes to the functioning of the body, it's important to know that it's never stagnant at 100% – it's always fluctuating and moving. One way to maintain as close to full function as possible is to prioritize the health of your spine and nervous system through chiropractic care.
The nervous system is the master controller of the body, meaning it controls the functioning of all of the body's systems, organs, etc. If there's interference in the nervous system, the body won't function or heal properly, causing symptoms and disease to occur.
Dr. Neil Cohen explains it best, "health isn't how you feel… it's how you heal." Although you may feel fine, there could be interference in your body that will not only restrict your ability to function and heal, but also hold you back from being the best you can be.
Take responsibility for your health with chiropractic care. Through the use of x-rays, we can pinpoint the interference in your body and perform specific chiropractic adjustments to remove it, allowing you to heal and function properly.
If you know someone struggling with a health issue, share this episode with them to give insight on how chiropractic can help them feel their best. Available now on Apple Podcasts, Spotify, and more!
Chiropractic Resources