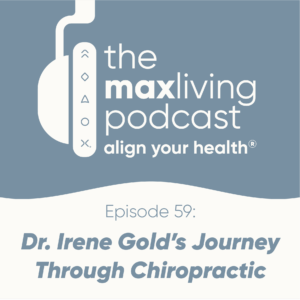 Dr. Irene Gold's Journey Through Chiropractic
This week's special episode of The MaxLiving Podcast features guest host and MaxLiving Dr. Marc Surprenant, interviewing chiropractic legend Irene Gold, R.N, B.S., M.A., D.C. Today they discuss Dr. Irene Gold's journey through chiropractic.
Contrary to popular belief, Dr. Gold didn't begin her professional career in chiropractic. Before attending chiropractic school, she spent 13 years as a registered nurse, public health nurse, and school nurse. Since then, Dr. Gold has been passionate about teaching the principle of chiropractic to the world, leading her to teach at Sherman College of Chiropractic, the Columbia Institute, & more.
She reflects back on her chiropractic journey and tells the story of when she was invited to be in a debate with a well-known writer/pediatrician Dr. Robert Mendleson, a member of the CDC, and a chief hospital pediatrician. Regardless of whether or not Dr. Gold's beliefs were the audience's "popular opinion", she stood her ground and stuck to the principles of chiropractic.
She also spent time working with her husband Reggie in their chiropractic office. For every patient they saw, they made a conscious effort to educate them about subluxation and how removing it could help them function at their full potential.
If you enjoyed today's episode of The MaxLiving Podcast, listen to previous episodes on Apple Podcasts, Spotify, & more!
*Please note: the information shared on this podcast are the opinions/views of the hosts.
The contents of The MaxLiving Podcast and website are strictly for educational purposes and are not intended to be a replacement for professional medical advice, diagnosis, or treatment. Never ignore professional medical advice because of something you heard or read on The MaxLiving Podcast or website. If you have a medical emergency, call your doctor or 911 immediately.
Chiropractic Resources