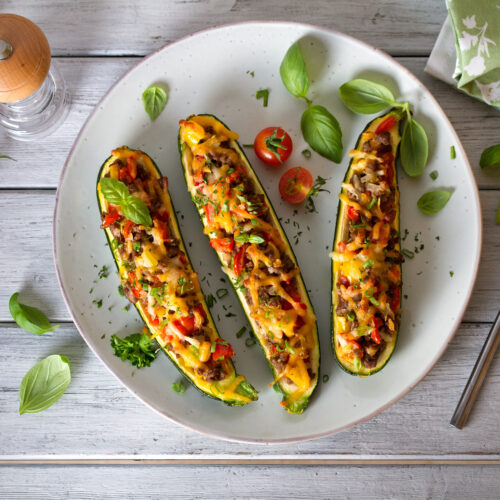 Zucchini Boats
Impress your friends with this delicious and beautifully presented dish. You will want to double this recipe!
Ingredients
2

Medium Zucchini

3⁄4

lb

Ground Turkey

1

cup

Raw Cheese (or Cheese Alternative), Shredded

(Optional)

2

tbsp

Fruit Sweetened Ketchup or Tomato Paste

1⁄2

tsp

Sea Salt

1⁄4

tsp

Pepper

1⁄2

cup

Sliced Fresh Mushrooms

1⁄2

cup

Sweet Red Peppers

1⁄2

cup

Chopped Green Peppers
Instructions
Trim the ends of the zucchini.

Scoop out pulp, leaving a 1⁄2 inch shell.

In a skillet, cook ground turkey, zucchini pulp, onion, mushrooms, and peppers until meat is brown, drain.

Add 1⁄2 cup cheese, ketchup, sea salt, and pepper.

Spoon into the zucchini shells.

Place in a buttered 13 x 9 x 2 inch baking dish.

Sprinkle with remaining cheese if desired.

Bake uncovered at 350F for 30 minutes.