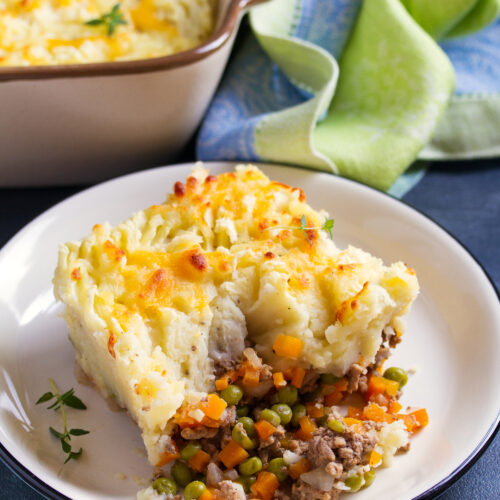 Shepherd's Pie
Shepherd's pie is a hearty dish that can easily be transformed to fit a healthy lifestyle! Watch this Mashed NO-tatoes dish become a household favorite.
Ingredients
1

tbsp

coconut oil

1

large onion

finely chopped

1

pound organic grass- fed ground beef, turkey, or lamb

1

stalk organic celery, finely chopped

1

cup

frozen organic peas

1

organic bell pepper

finely chopped

1

tbsp

arrowroot powder

2

tbsp

iced cold water

1

cup

organic vegetable stock

2

tsp

dried thyme

1

tsp

dried oregano

1

pinch ground cloves

Himalayan sea salt and pepper to taste
Instructions
In a large skillet, heat the coconut oil over medium heat and add the onion and celery.

Cook, stirring occasionally, until soft.

Add the ground meat, increase the heat to medium-high, and cook until browned, breaking up chunks with a wooden spoon.

Add remaining vegetables (you can add any veggies you'd like!) and sauté for 4 minutes.

Add the stock, stirring to combine.

Add the thyme, oregano, cloves, and sea salt and pepper.

In a small bowl, combine the arrowroot powder with the iced cold water, stirring with a fork until smooth.

Add arrowroot mixture to the veggies, stirring well to combine.

Bring to a boil and cook for 2–3 minutes, or until the gravy thickens.

Transfer the mixture to a 9-inch round or 3-quart rectangular casserole dish.

Spread the Mashed NO-tatoes onto the meat mixture and spread evenly.

Bake for 30–40 minutes, or until the Mashed NO-tatoes are golden.