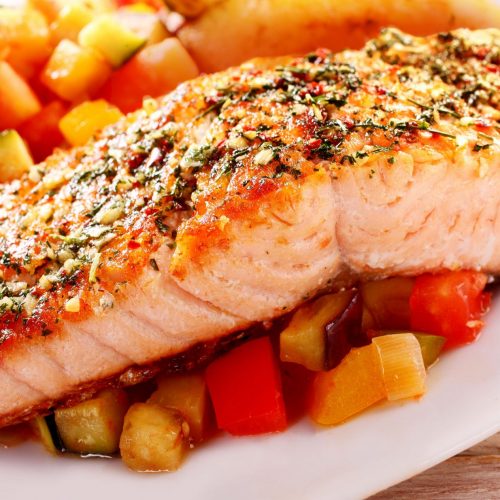 Grilled Salmon With Zucchini
An easy, delectable, keto-friendly salmon dish for a dinner with friends around the pool. Enjoy the health benefits of salmon, like omega-3 fatty acids and lean protein, along with great flavor, too! Zucchini is an excellent source of vitamin c, and a good source of vitamin B6, making this the perfect pair for a nutritious meal!
Ingredients
2

lbs

of salmon or 4 salmon steaks

1

tbsp

olive oil

2

tsp

lemon pepper

(check for no sugar, no msg and no additives)

2

red peppers

cut in half

2

yellow peppers

cut in half

4

medium zucchinis

cut into 1⁄2-inch wide slices

1

cup

broccoli florets

1

cup

cauliflower
Instructions
Marinate salmon in 1 tablespoon olive oil.

Baste the salmon on both sides with lemon pepper mixed with oil.

Grill, turning once. 10 minutes on each side.

Spray the vegetables with olive oil, season with sea salt and lemon pepper. Grill on both sides 3-4 minutes each.
Tip: Sprinkle the vegetables with paprika on both sides while grilling for added flavor.