How is Tom Brady winning while others are retiring?
A Washington Post headline read, "Tom Brady rejected NFL's medical culture. At almost 40, he's never played better."
[1]
That was almost three years ago.
And now he has done it again. Today, at 43, he is at the top of the NFL® while other players retire much earlier, their bodies breaking down faster. This begs the question: What is different about Tom Brady?
The answer is may actually quite simple: he rejected the health model used by other NFL players. When he was 25, Tom Brady realized that when he followed the same health practices that everyone else in the NFL did, he had injuries like everyone else.
Enter trainer Alex Guerrero, who taught Brady how to eat, train, and live differently. He introduced Brady to meditation and yoga, and taught him how to stretch and lengthen his muscles differently.
In addition to these changes, Brady began getting regular chiropractic adjustments. And the results speak for themselves.
As Brady has said, "as long as I see my chiropractor, I feel like I'm one step ahead of the game." [2]
Guerrero received his fair share of doubts for his unconventional methods, but after a seventh championship, we can see how well Gerrero's tactics have worked out for Tom Brady and the teams he has played for.
The key to the longevity Guerrero has helped Brady achieve is actually quite simple. It can be summed up with five essential aspects of achieving and maintaining health. [3]
We have our own name of these core aspects of health: The 5 Essentials®. They are Nutrition, Mindset, Oxygen & Exercise, Minimizing Toxins, and, most importantly, Core Chiropractic.
This is the basis of what we teach at MaxLiving®.
Brady follows this system of natural health because he wants to be the greatest quarterback to ever play––and he is succeeding.
We teach it to our patients because we want them to be the best that they can be in their own lives, whether that means being the best mom, dad, son, daughter, coworker, preacher, husband, wife, etc. Whatever you wish to be the very best at in your life, the MaxLiving goal is to give you the strength and resources you need to become it.
To do just this, the MaxLiving lifestyle is based on the principles of innate health, which begins with taking responsibility for your own life and your own health.
The 5 Essentials®- The Foundation of Natural Health
These principles, embodied by the 5 Essentials, are as follows:
Nutrition: You are what you eat. Your cells are built with the nutrients you put in your body!
Mindset: Having faith that your body was designed to heal itself is everything. Your mind plays a massive role in your health and healing.
Oxygen and Exercise: The body functions at a higher level with lean muscle and oxygen.
Minimize Toxins: We live in a world full of toxins. Eliminate them to function at a higher level.
Chiropractic: Your brain and spinal cord control every function in your body! A "clear" or "adjusted" nervous system functions at the highest level of healing.
This is the foundation of true health. It works wonders for Tom Brady, and it may do the same for you. We at MaxLiving are trained experts in implementing these Essentials, and we can help guide you towards implementing them in your life.
Find a MaxLiving Clinic near you so our highly trained network can help you live at your fullest potential.

*NFL is a registered trademark of the National Football League
About Dr. Marc Surprenant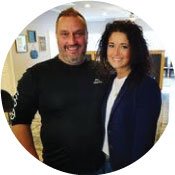 Dr. Marc and his wife, Dr. Joelle, have a large family practice in Charlotte, NC. Dr. Marc loves helping change people's lives with the chiropractic lifestyle. He has also coached chiropractors for the last 15 years to help them get the practice and life of their dreams!
References
[1] https://www.washingtonpost.com/sports/redskins/tom-brady-uses-the-game-of-football-instead-of-being-used-by-it/2017/02/06/0d63948c-ec94-11e6-b4ff-ac2cf509efe5_story.html
[2] https://novachirowellness.com/chiropractic-care-helped-introducing-tom-brady/#:~:text=Michael%20Miller%2C%20a%20graduate%20of,specific%20injuries%20during%20the%20game
[3] https://www.mensjournal.com/health-fitness/the-secrets-of-tom-bradys-personal-trainer-w479755/