Riverside Family Chiropractic
We believe that any doctor you see should do more than just helping you feel good or masking your symptoms. We know that you can't perform at your best when you're sick, broken down, or not feeling and functioning at your best. Through high-quality chiropractic and corrective care, combined with our other 5 Essentials™ of quality nutrition, healthy mindset, exercise, and minimizing toxins, we're here to empower you with both knowledge and healing. We look for cause and relentlessly work hard to help you trust that your health is in expert hands. We were voted as one of the Top Chiropractors in Powell in 2018!
Adult Patient Paperwork
Pediatric Patient Paperwork
NEW PATIENT
SPECIAL
FREE CONSULTATION
Hours of Operation
Monday:

8:00 am – 10:30 am
3:15 pm – 6:15 pm

Tuesday:

11:00 am – 2:00 pm

Wednesday:

8:00 am – 10:30 am
3:15 pm – 6:15 pm

Thursday:

3:15 pm – 6:15 pm

Friday:

8:00 am – 10:30 am

Saturday:

8:00 am – 10:30 am

Sunday:

Closed
About
Riverside Family Chiropractic – Powell, OH
Corrective Chiropractic Care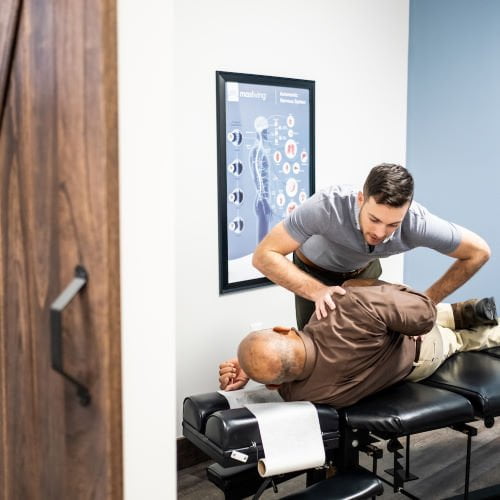 Corrective care goes beyond simply adjusting your spine to help you feel better. Research from the state-of-the-art techniques we use have shown that corrective care can actually to help improve your spinal alignment and posture, help reduce or prevent arthritis, and prevent your spine from shifting back to its original misaligned position!
Very effective with problems like headaches, migraines, back pain, sciatica, high blood pressure, radiculopathy, numbness and tingling, arthritis, and scoliosis
Measurable results in only weeks
Lasting effects
Wellness Care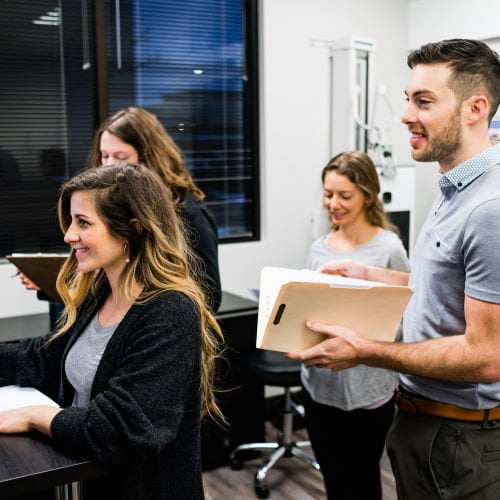 Our Doctors and Health Coaches provide a full spectrum of complimentary care to help identify specific lifestyle deficiencies preventing you from functioning at 100%. Our patients visit us for various reasons ranging from problems like back and neck pain, headaches, and sciatica, to visceral issues like high blood pressure, gastrointestinal problems, metabolic disorders, and autoimmune disease.
Our job is to determine the underlying causes of your specific health issues and create specific action steps in lifestyle change to help your body function at its best.
Proper care of your health is critical at all ages. We help patients ranging from newborn babies to patients nearing the century mark to create a plan for lasting health.
Corrective chiropractic care
At home rehabilitative exercise recommendations
Nutritional plans and coaching
Seminars and workshops on fitness, nutrition, mental Health, supplements, and toxicity protocols
Rapid Soft Tissue Rehabilitation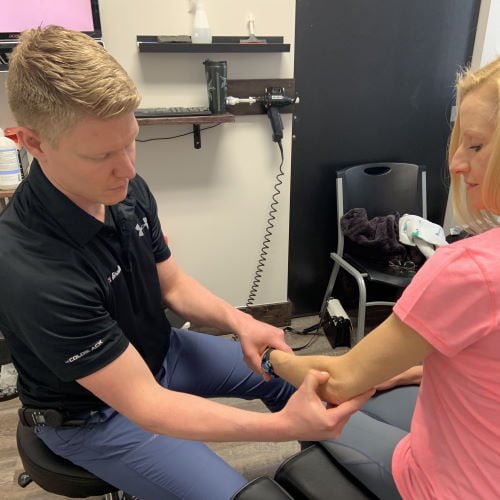 This is a highly effective treatment of soft tissue injuries and a proven non-invasive alternative to pain management, long term rehabilitation therapy, injection, or surgery. We work to treat the underlying cause of your symptoms by improving the regenerative potential of injured tissue caused by overuse, acute injury, ischemia (reduced blood flow), or weakness.
Rehabilitation of soft tissue injuries in a fraction of the normal time
Very effective for problems like plantar fasciitis, radiculopathies, weakness, shoulder injuries, tendonitis, carpal tunnel syndrome, back and neck injuries
Meet The Team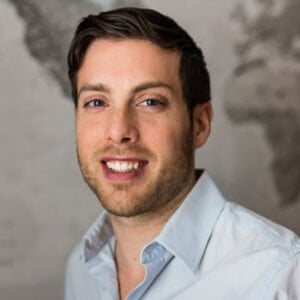 Dr. Lee Thomas, D.C.
Chiropractor
Dr. Thomas grew up in Wadsworth, Ohio. Watching both of his parents struggle with health issues from a young age, he took an interest in living a healthy lifestyle through nutrition and exercise. In high school, after the passing of his mother, he began to explore healthcare more, and after a car accident, found himself for the first time in a Chiropractic office. While there, he began to discover something that would change the trajectory of his life forever. He learned about the ability of the body to function optimally by being properly aligned. This was the missing link, he felt, that was never talked about in health care. The concept of correcting causes of problems rather than masking symptoms, which is what chiropractic care was founded upon, was something he wanted to share to help empower people to live their best life.
He received his degree in Human Biology and Microbiology from Ohio State in 2008, completing all of his pre-chiropractic course work. While finishing school, he met his wife in a volleyball class, and to this day, they have lived happily ever after.
Together, they opened RFC in December in 2013, becoming the youngest private chiropractic clinic owners in Ohio. Years later, they are still directly involved in patient care, and love seeing people come alive by aligning their health. Dr. Thomas has completed advanced training in structurally corrective chiropractic care, which helps to quickly and effectively align the spine to help the body function at its best. He also has completed advanced training courses in nutrition, detoxification, exercise physiology, and physical therapy. He has hosted Aligned with Life Radio, on 98.9FM and 880AM, since 2014. Other than spending time with his wife and children, his biggest passion is helping people reach their optimal health potential.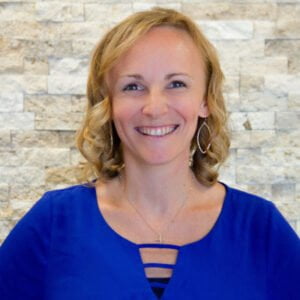 Dr. Marisa Marquis
Chiropractor
Dr Marisa has been practicing chiropractic since 2010. Prior to coming to Riverside Family Chiropractic in 2016, she was on a mission to change lives in London, England, where she and her husband helped build Europe's first MaxLiving office.
Chiropractic is in her blood—she has been adjusted since she was a baby and gave her daughter Alaina her first adjustment when she was only minutes old. Her London office won awards for the positive impact it had on the community. She is consistent in practicing what she preaches, as she and her extended family are all under chiropractic care.
She is a recognized authority on spinal correction, has a passion for adjusting families, pregnant women, and working professionals. She is Webster-certified to work with pregnant women, has advanced certifications in spinal correction and nutrition, and has advanced training in pediatric care. Her husband has a PhD in historical theology, and her toddler daughter can often be seen 'adjusting' her teddy bear.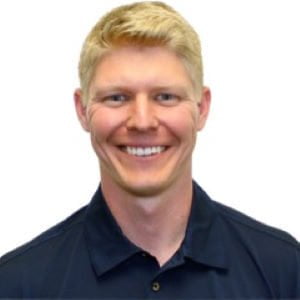 Dr. Brett Brodbeck
Chiropractor
Dr. Brett Brodbeck, joined the Riverside Family Chiropractic team in early 2019 as muscular and extremity injury specialist. He has earned a Bachelor's degree in Exercise Physiology from the University of Toledo, a Master's Degree from Ohio University, a Doctorate of Chiropractic degree from Life University, and has advanced certifications specializing in Functional Medicine and Functional Movement.
"My favorite thing about being a doctor who specializes in soft tissue injuries is getting people out of pain quickly and teaching them how to live pain-free. The other thing I like so much about practicing is bridging the gap between traditional medicine and alternative healthcare." – Dr. Brodbeck
Dr. Brodbeck grew up in Nashville, Tennessee and moved to Ohio to play football for the University of Toledo in 2007. An injury his junior year sidelined him and he spent countless hours doing Physical Therapy and rehab. "After being a 2 year starter, not being able to play due to injury was one of the worst things that could've happened. However, this sparked my passion for fixing injuries quickly and returning athletes to play in the most efficient way possible."
He enjoys playing guitar, singing, dancing, and having a good time. He likes to play golf, soccer, and volleyball. In his spare time, he likes to learn new things. Currently he is learning various programming and coding languages. "I am working on developing a mobile app to help people know what to do when they have injuries. I think this combination of healthcare and technology has the potential to make a global impact."
Dr. Brodbeck enjoys spending time with his wife, Leah and 3 daughters. "I really love taking 'my girls' to try new things. I like to expose them to various cultures, languages, and foods that they would not typically see."
In Case You Didn't Know: Dr. Brodbeck enjoys traveling and has done many interesting things. He fondly recalls a month-long trip to Europe to play soccer as an eighth-grader. This included Germany, Amsterdam, U.K., Belgium, Spain, and France. "I was fortunate to get this cultural exposure at such a young age. For the first time, I was able to see how people lived outside of the United States. I loved my time in Europe! However, I was happy to return home and sink my teeth into a big juicy cheeseburger."
He has also been scuba diving with sea turtles in Hawaii, swam with sharks in Puerto Rico, gone fly fishing in Wyoming and ridden snowmobiles in regions that seemed like they have been untouched by man.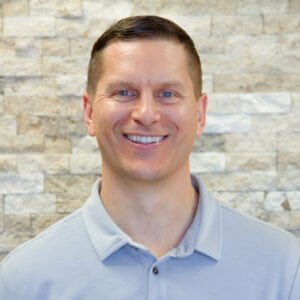 Dr. Matt Vincler
Chiropractor
Life University
Dr. Vincler was born and raised near Pittsburgh, PA. Received his Psychology degree from The College of Wooster in Wooster, OH where he also was a four-year letter winner and co-captain of Wooster's 1994 World Series Baseball Team. He earned his Chiropractic degree in 2001 from Life University – College of Chiropractic in Marietta, GA.
With over 18 years of experience (12+ in Columbus, OH), Dr. Vincler loves working with patients who want to reach higher with their health goals; and enjoys being part of the RFC team – as a leader in the field of corrective care offices – that focuses on the goal of correcting spinal curves.
When he's not helping patients in the office, you'll find Dr. Vincler with his wife Julie … exploring Powell and Dublin's newest walking trails around Bridge Park, running up and down the court with his weekly basketball group and rooting on Cleveland and Columbus sports teams (but still loyal to his Pittsburgh Steelers).
Tristan
Clinic Director
Tristan and her husband, Dr. Lee Thomas opened the practice in December of 2013. They have a huge passion for helping people by restoring not only their health but their hope and love for life by delivering the five essentials of MaxLiving.
Tristan graduated from Ohio State, where she received a bachelors degree in economics and business. She is a certified health coach through the Institute of Integrative Nutrition. She received additional training to coach clients in living a ketogenic lifestyle.
When she is not in the office, she and Lee loves spending time and staying active with their two little boys, Liam and Landon.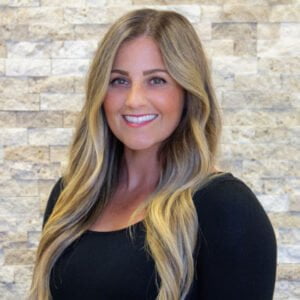 Tara
Patient Care Coordinator
Tara has been a team member since May 2017, however her journey with the Health Center started 3 years prior as a patient. She is very active and health conscious which makes her very passionate about helping others with their health goals and progress.
Tara resides in Powell with her husband Cory, son Nixon, daughter Isla and dog Penny.
Toshia
Office Manager
Toshia was born and raised in Tennessee and spent the majority of the last 10 years working seasonally and traveling the country with her husband Justin. They love camping, hiking and exploring new places. They moved to Ohio in the fall of 2018, finally ready to put down some roots.
Toshia's work background is mostly in the hospitality industry, but when she moved to Ohio she wanted to work in an environment that gave her real purpose, and the opportunity to make a positive change in the world. Riverside Family Chiropractic has given her that and so much more.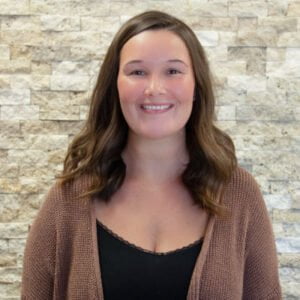 Samantha
Patient Liaison
Sam started as a patient in our office over a year ago. She initially came in with severe neck pain and headaches caused from years of playing soccer. She is now pain free, headache free, and can continue playing the sport she loves.
Sam recently got engaged to her fiancé Josh, they moved into a new home together, and will eventually want to start a family together. She knew it was time for a career change and when she heard about the opportunity to join our team, she knew this was the change she was looking for.
Sam is our new patient liaison and handles our in patient process to ensure each person who walks through our door feels welcomed and apart of our family.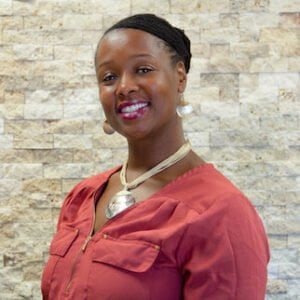 Angel
Schedule Coordinator
Angel lives, dreams and eats health and fitness every day of her life. She enjoys supporting people and empowering them through all walks of life. She wants to share her passion with others who have the aspiration to become a healthier stronger version of themselves.
She has two children; and although balancing family and a career may be hard sometimes, she believes that finding time for yourself and your health is very important (an excellent example for any family).
In her spare time, Angel enjoys time with her family and friends, traveling, painting, cooking, and spending time outdoors. She is very excited to be part of Riverside Family Chiropractic.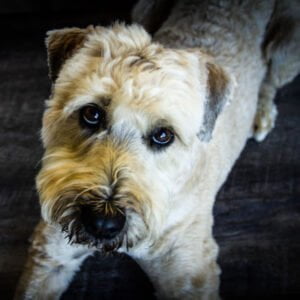 Murphy
He's more than our team mascot!
Murphy is a Soft-coated Wheaten Terrier that loves to swim in his swimming pool at home; but in the office, his activity of choice seems to be giving everyone that welcoming look to gently scratch him behind his ears. If he's not doing that – or trying to get someone to play tug-of-war with his red toy … you'll find him catching a well-deserved nap.
Blog
Reviews
This clinic is owned and operated by Riverside Family Chiropractic, a MaxLiving
Health Center