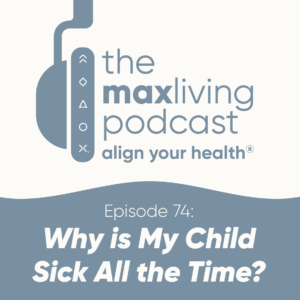 Why is My Child Sick All the Time?
Does your child struggle with allergies, ear infections, asthma attacks, etc. multiple times a year? If so, it's time to do something about it. Learn what you can do as a parent to help your child live a healthier lifestyle by listening to today's new episode of The MaxLiving Podcast.
When it comes to finding the solution for why your child is sick all the time, Dr. Ryan and Ashley suggest asking yourself 2 important questions:
Are you giving your child things that support their health? (EX: feeding them organic foods, giving them time outside to play, taking them to get adjusted, supporting a positive mindset, etc.)
Are you giving your child things that interfere with their health?
(EX: feeding them processed foods, letting them watch tv/play video games all day, buying them personal care products with toxic chemicals, etc.)
Although it may seem like a lot to think about, it's important to take the time to analyze what lifestyle habits could be contributing to your child's sickness. After all, if you aren't intentionally supporting their health, you're unintentionally creating interference in their body which in turn may cause sickness and disease. Be sure to listen to the entirety of today's episode to find out the 4 big areas that may be causing interference in your child's body.
Know a parent whose kids get sick often? Share this episode with them! It could help a sick child in need. For more of The MaxLiving Podcast, listen on Spotify, Apple Podcasts, & more!
*Please note: the information shared on this podcast are the opinions/views of the hosts.
The contents of The MaxLiving Podcast and website are strictly for educational purposes and are not intended to be a replacement for professional medical advice, diagnosis, or treatment. Never ignore professional medical advice because of something you heard or read on The MaxLiving Podcast or website. If you have a medical emergency, call your doctor or 911 immediately.
Chiropractic Resources