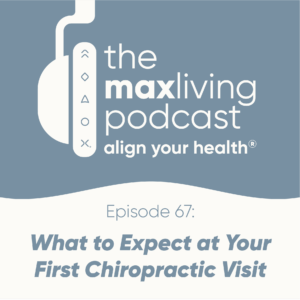 What to Expect at Your First Chiropractic Visit
Never been to a chiropractor before? In today's episode of The MaxLiving Podcast, Dr. Ryan and Ashley Berlin discuss what to expect at your first chiropractic visit.
Prior to attending your appointment, our offices require you to fill out new patient paperwork to give our doctors and team members insight on your past health history, current struggles, and future health goals. Be sure to view the individual office website to see if this paperwork can be filled out and submitted electronically, or if you should bring a printed version.
Once you arrive at our office, our doctors and team will have already gone through your paperwork thoroughly. You'll most likely get a tour of the office, and hear a little bit about what we do. Next, you'll head to the consultation room so our team can ask you questions related to your health history in order to fully grasp your concerns. We'll also perform a few tests to analyze the health of your nervous system and find the root cause of your health problem. Following your next visit, we'll take a look at your test results and come up with a personalized care plan to help you achieve your health goals.
We hope today's episode made you feel more prepared when attending your first chiropractic visit. If you know someone who's interested in chiropractic care but hasn't fully committed, send this episode to them!
Chiropractic Resources