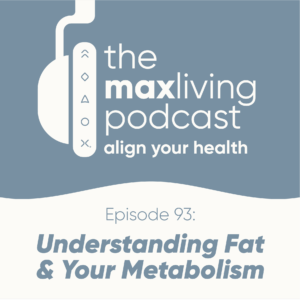 Understanding Fat & Your Metabolism
Did you know that there are action steps you can take to possibly speed up your metabolism? Since your everyday behaviors make up your metabolism, eating a healthier diet or even working out may be able to increase your metabolic rate. Don't miss today's episode of The MaxLiving Podcast to learn all about fat and what you can do to increase your metabolism.
Dr. Ryan and Ashley Berlin explain the 3 primary purposes that fat provides to the body:
Insulation
Protection of your organs
Storing energy
Fat isn't always a bad thing – it's actually essential to the wellbeing of your body (in healthy amounts of course). Similarly, your metabolism is responsible for all the functions in your body to keep you alive, including the process of how the food that you eat turns into energy or heat.
Our MaxLiving offices across North America are hosting their "Kickstart Your Metabolism Makeover" throughout the month of February. If you enjoyed today's episode and want to learn more, contact your nearest MaxLiving location to reserve your spot.
*Please note: the information shared on this podcast are the opinions/views of the hosts.
The contents of The MaxLiving Podcast and website are strictly for educational purposes and are not intended to be a replacement for professional medical advice, diagnosis, or treatment. Never ignore professional medical advice because of something you heard or read on The MaxLiving Podcast or website. If you have a medical emergency, call your doctor or 911 immediately.
Chiropractic Resources