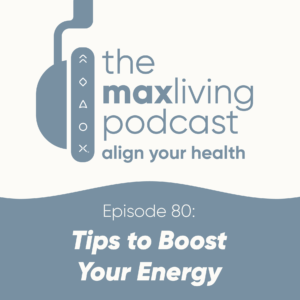 Tips to Boost Your Energy
With daylight savings and the cold winter months approaching, it can be normal to feel fatigued and tired. What you may not realize though is that your daily habits may be contributing to your lack of energy, rather than the season. Tune in to our new episode of The MaxLiving Podcast to hear Dr. Ryan and Ashley Berlin explain their tips to help you feel more energized, empowered and ready to take on the day.
Examples of activities that can help improve your energy include:
Drinking enough water
Intentionally moving your body
Getting enough sleep
Having a positive mindset
Getting adjusted regularly
Eating organic, healthy food
& more
Listen to the full episode to hear more tips. If you liked today's episode, leave us The MaxLiving Podcast a review on your favorite podcast app!
The contents of The MaxLiving Podcast and website are strictly for educational purposes and are not intended to be a replacement for professional medical advice, diagnosis, or treatment. Never ignore professional medical advice because of something you heard or read on The MaxLiving Podcast or website. If you have a medical emergency, call your doctor or 911 immediately.
Chiropractic Resources