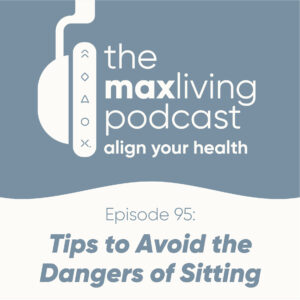 Tips to Avoid the Dangers of Sitting
What if we told you that something you do everyday could be a contributing factor to poor health? According to the Mayo Clinic, sitting for long periods of time whether you're at work, school, in the car, or lounging on the couch has been compared to doing as much damage as smoking would. While it may seem impossible to not sit in these situations, there are some things you can do to offset the amount of sitting that you're doing in order to avoid possible health risks. Tune in to today's episode of The MaxLiving Podcast to learn tips to avoid the dangers of sitting.
Contrary to popular belief, sitting is actually more harmful on your spine than standing. For example, when you're standing, your spine is being supported by your legs, but when you're sitting, all that pressure is being put on your lower back. The position you sit in as well could cause even more pressure such as if you cross your legs or have a wallet in your back pocket.
A few tangible strategies Dr. Ryan & Ashley Berlin suggest to avoid the dangers of sitting include:
Using a standing desk
Getting up every hour and moving your body – even if it's just walking around the house
Adding a pedal exerciser, elliptical exerciser, or treadmill under your desk
Using a wobble cushion to warm up your spine and relieve lower back pain
Using a traction unit to help fix any forward head posture while looking at a screen for long periods of time
& more
Share this episode with someone who sits for long periods of time. It could possibly save them from developing health issues as a result of their prolonged sitting in the future!
*Please note: the information shared on this podcast are the opinions/views of the hosts.
The contents of The MaxLiving Podcast and website are strictly for educational purposes and are not intended to be a replacement for professional medical advice, diagnosis, or treatment. Never ignore professional medical advice because of something you heard or read on The MaxLiving Podcast or website. If you have a medical emergency, call your doctor or 911 immediately.
Chiropractic Resources