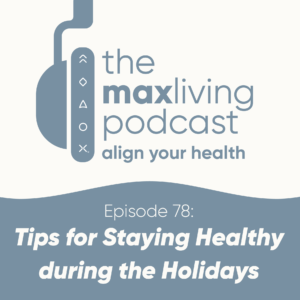 Tips for Staying Healthy During the Holidays
Let's face it – it can be difficult to stick to your normal health regimen during the holidays. A lot can get in the way whether it's unhealthy food, stress, a busy schedule, etc. With the holiday season quickly approaching, it's important you come up with a health plan for the holidays now so you can continue to achieve your health goals in the new year! Tune in to learn Dr. Ryan & Ashley Berlin's tips for staying healthy during the holidays.
Stay away from sugar as much as possible. Not only is it bad for your gut, but it also tanks your immune system.
Since you aren't exposed to as much sunlight in the winter months as you are in the summer, many people end up being deficient in vitamin D. Try our Vitamin D3+ Probiotics.
Make sure you're getting enough sleep.
Hydrate, hydrate, hydrate! While you may be drinking coffee or tea to keep you warm, water is the most important.
Don't skip out on getting adjusted. Your nervous system regulates all functions in your body therefore if you skip your adjustments, your body may not function properly.
Be intentional about what you put in your body.
Be sure to listen to the full episode on Spotify, Apple Podcasts, & more to hear other strategies mentioned.
The contents of The MaxLiving Podcast and website are strictly for educational purposes and are not intended to be a replacement for professional medical advice, diagnosis, or treatment. Never ignore professional medical advice because of something you heard or read on The MaxLiving Podcast or website. If you have a medical emergency, call your doctor or 911 immediately.
Chiropractic Resources