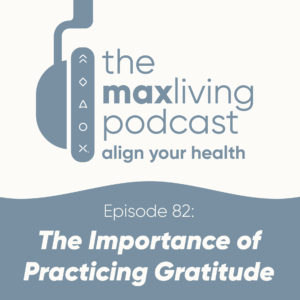 The Importance of Practicing Gratitude
What if we spent the entire year focusing on gratitude and giving thanks rather than just during Thanksgiving? Gratitude not only helps us to feel good, but it also allows others to feel wanted and appreciated. Who doesn't want more of that? In this week's episode of The MaxLiving Podcast, Dr. Ryan & Ashley Berlin talk about what gratitude is, the positive impacts it can have on us, and the importance of reflecting on what you're thankful for everyday.
Dr. Ryan explains that "one of the best things about practicing gratitude is the more you use it… the more you see the things showing up in your life that you're grateful for." Whether you're telling someone thank you, or writing in a gratitude journal, expressing gratitude has been found to improve sleep and overall well being (Emmons & McCullough, 2003). Read more information about gratitude and how to stay positive during the holiday season.
If you enjoyed today's episode, be sure to rate our podcast on your favorite podcast app.
*Please note: the information shared on this podcast are the opinions/views of the hosts.
The contents of The MaxLiving Podcast and website are strictly for educational purposes and are not intended to be a replacement for professional medical advice, diagnosis, or treatment. Never ignore professional medical advice because of something you heard or read on The MaxLiving Podcast or website. If you have a medical emergency, call your doctor or 911 immediately.