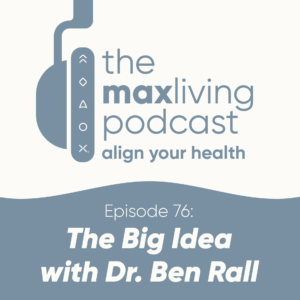 The Big Idea with Dr. Ben Rall
Ever heard of "the big idea" in chiropractic? If not, you're in for a treat. Tune in to hear Dr. Ryan & Ashley Berlin interview podcast host, author, and chiropractor, Dr. Ben Rall. They'll touch on how the last 2 years have changed people's perception of health, what the big idea is and how to understand it, and more!
The big idea stems from the idea that your body heals from above-down-inside-out. It's a self-healing, self-regulating organism that runs without you even thinking about it. Our job as human beings is to take care of our bodies and remove interference that limits the body in doing what it should so that it can do what it was made to do – heal itself!
Want more of The MaxLiving Podcast? Hear previous episodes on Spotify, Apple Podcasts & more.
Please note: the information shared on this podcast are the opinions/views of the hosts.
The contents of The MaxLiving Podcast and website are strictly for educational purposes and are not intended to be a replacement for professional medical advice, diagnosis, or treatment. Never ignore professional medical advice because of something you heard or read on The MaxLiving Podcast or website. If you have a medical emergency, call your doctor or 911 immediately.
Chiropractic Resources