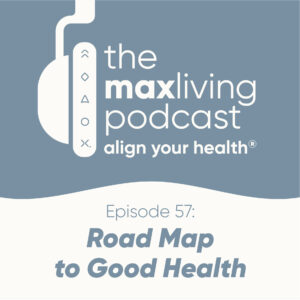 Road Map to Good Health
When it comes to your health, where do you stand?
You don't know the status of your health
You know you have some health changes to make, but haven't made them yet
You've made changes to improve your health
No matter where you stand in your health journey, we're here to help keep your health on track so you can live the life you deserve. In today's new episode of The MaxLiving Podcast, Dr. Ryan and Ashley Berlin explain how to follow a road map to good health. Just as you have a starting point, route, and destination in a GPS, your health does too. See the 3 steps that matter in your health road map below:
Where did you start?
How was your birth? What are your genetics? What lifestyle choices were made for you when you were younger? Are you vaccinated?

All these factors play into the start of your health journey. For example, if you ate heavily processed foods growing up, your nutrition may be lacking compared to if you ate organic fruits/vegetables and pasture raised meats.

Where are you going?
What are your health goals? Do you want to be able to do outdoor activities with your grandkids? Do you want to still be able to play tennis in your 70's?

Health goals are great for motivation and allowing you to think about the bigger picture. If you've never thought about your health goals, now would be a great time to start thinking about them because the longer you wait, the harder they may be to achieve.

Where are you now?
What is the current state of your health? What can you do TODAY to help you reach your health goals TOMORROW?

This stage is one that people can get a little disconnected with. For example, it can be hard to face reality and realize that your current health state isn't doesn't match when you were in the best shape of your life in college.
By being proactive about your health road map now, you can be on track to reach your health goals. If you enjoyed today's episode, leave us a review! Check out past episodes on Apple Podcasts, Spotify & more!
*Disclaimer: MaxLiving chiropractors don't treat allergies or any disease process. We look for root cause(s) of dysfunction and empower the patient with resources and action steps to help restore optimal function to the body. We do this through our 5 Essentials approach including chiropractic, functional nutrition, detoxification, movement, and mindset.
The contents of The MaxLiving Podcast and website are strictly for educational purposes and are not intended to be a replacement for professional medical advice, diagnosis, or treatment. Never ignore professional medical advice because of something you heard or read on The MaxLiving Podcast or website. If you have a medical emergency, call your doctor or 911 immediately.
Chiropractic Resources