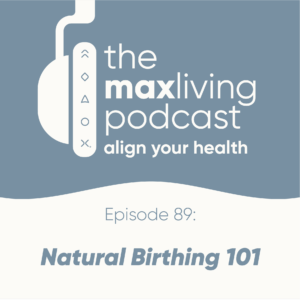 Natural Birthing 101
Bringing a child into the world is a beautiful thing, but the process leading up to having your baby can be nerve wracking and stressful at times. Since so many of our patients ask us about home births, we thought it would be fitting to re-share one of our favorite episodes that goes into a deep dive of natural birthing 101. In today's episode our hosts will discuss their natural birthing experiences and share their advice for anyone considering a home birth.
If you have a loved one who's pregnant and considering options for how to give birth, please don't hesitate to share this episode with them. Regardless of if they want to have a home birth or not, there's a lot of mindset advice about birthing in general that any pregnant mom could benefit from hearing.
*Please note: the information shared on this podcast are the opinions/views of the hosts.
The contents of The MaxLiving Podcast and website are strictly for educational purposes and are not intended to be a replacement for professional medical advice, diagnosis, or treatment. Never ignore professional medical advice because of something you heard or read on The MaxLiving Podcast or website. If you have a medical emergency, call your doctor or 911 immediately.