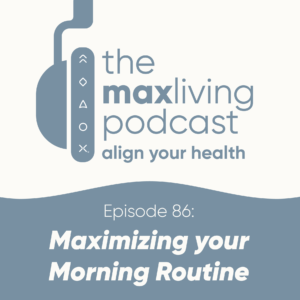 Maximizing your Morning Routine
If your morning consists of snoozing your alarm, spending time on your phone, or rushing to get out of the house, it's time to make a change. Rather than starting your day on a chaotic note, try creating a consistent morning routine. According to Dr. Ryan and Ashley Berlin, a good morning routine includes a handful of microhabits that can help you feel more productive so you can win the day. Follow along for tips on how to create a productive morning routine.
Ashley mentions that "morning preparation starts at night," and we couldn't agree more. Rather than wasting time in the morning to pick out your workout clothes or decide what workout you're going to do, plan it the night before so you're more likely to complete it in the morning. The same goes for any other habits you plan on adding to your morning routine such as journaling. If you have your journal on the nightstand right next to you, you'll be more likely to write in it as soon as you wake up.
When creating your morning routine, it's important to note that not every plan will work for you. Dr. Ryan talks about how he used to try to read the bible first thing in the morning but it ended up making him more tired. Now he drinks a full glass of water, journals, does a workout, and then reads the bible before starting his day. Regardless of what you decide to add to your morning routine, make sure it's beneficial to you and your needs in order for you to become the best version of yourself.
Listen to the full episode on Spotify, Apple Music, & more for additional resources on how to maximize your morning routine.
*Please note: the information shared on this podcast are the opinions/views of the hosts.
The contents of The MaxLiving Podcast and website are strictly for educational purposes and are not intended to be a replacement for professional medical advice, diagnosis, or treatment. Never ignore professional medical advice because of something you heard or read on The MaxLiving Podcast or website. If you have a medical emergency, call your doctor or 911 immediately.