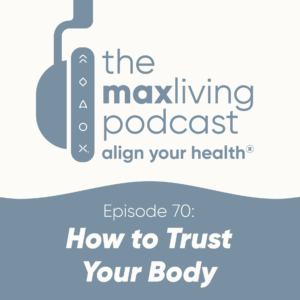 How to Trust Your Body
In this week's episode of The MaxLiving Podcast, the Berlin's are joined by chiropractor, author, and speaker, Dr. Dan Sullivan. After suffering from a pole vaulting injury in high school and many medical doctors leaving him without answers, he sought out chiropractic care. The results were life changing and the experience ultimately led him to become a chiropractor. Be sure to stay tuned to this episode to learn how to trust your body and gain certainty about chiropractic care.
Listen to new episodes of The MaxLiving Podcast every Tuesday on Spotify, Apple Podcasts, & more.
*Please note: the information shared on this podcast are the opinions/views of the hosts.
The contents of The MaxLiving Podcast and website are strictly for educational purposes and are not intended to be a replacement for professional medical advice, diagnosis, or treatment. Never ignore professional medical advice because of something you heard or read on The MaxLiving Podcast or website. If you have a medical emergency, call your doctor or 911 immediately.
Chiropractic Resources