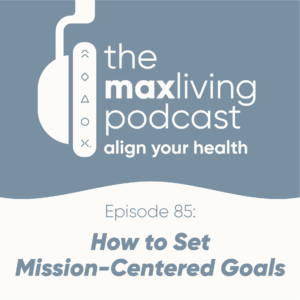 How to Set Mission-Centered Goals
As 2022 comes to a close, it's time to reflect on the highs and lows of the year, and come up with a plan for how to make 2023 even better. Rather than setting unattainable goals, Dr. Ryan and Ashley Berlin suggest creating goals around your mission, vision, and purpose statement, so you're more motivated to achieve them. Don't miss today's new episode of The MaxLiving Podcast to learn how to set mission-centered goals.
One of the most important things you can do in life is to set your mission statement. Personal mission statements help clearly define your purpose and allow you to steer clear of distractions. Dr. Ryan states, "we all have the same 24 hours in a day… but it's how we utilize it and the vision we have for it" that sets us apart. Before setting action steps for your new goal, it's vital you identify what your current mission is in life either individually, or for your family. By understanding this first, you can have a solid foundation for everything you do.
When it comes to setting mission-centered goals, Dr. Ryan recommends writing down your current habits vs. habits you need to change in order to achieve them. This will help you plan your days, weeks, and months accordingly so you spend time on what's most important.
If you liked today's episode, share it with someone you love! New episodes release every Tuesday on Spotify, Apple Music & more.
*Please note: the information shared on this podcast are the opinions/views of the hosts.
The contents of The MaxLiving Podcast and website are strictly for educational purposes and are not intended to be a replacement for professional medical advice, diagnosis, or treatment. Never ignore professional medical advice because of something you heard or read on The MaxLiving Podcast or website. If you have a medical emergency, call your doctor or 911 immediately.