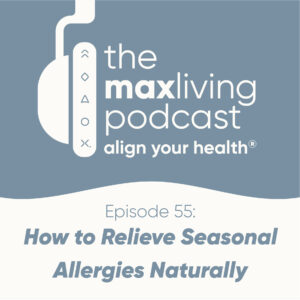 How to Relieve Seasonal Allergies Naturally
Did you know 50 million Americans suffer from allergies? With spring being in full swing, we're here to help give you action steps for how to relieve seasonal allergies naturally.
Dr. Ryan explains there are 5 signs of life known in chiropractic which are:
Assimilation – the process of eating and turning food into living cells.
Excretion – the process of getting rid of toxicity so you can keep the body cleansed.
Adaptation – the ability for your body to deal with something and overcome it.
Growth – the ability for living things to grow.
Reproduction – the process of cells reproducing.
This is extremely relevant to allergies because they occur as a result of your body not being able to adapt to its environment. For example, Dr. Ryan and Ashley went on a trip to Oklahoma where they came into contact with a new environment (ie: pollen) which was very different from the pollen in their home state of Ohio. As a result, their immune system response was weak and they were unable to adapt, causing allergy symptoms such as a runny nose, or watery eyes.
In order to give the body what it needs to overcome allergies, we have to go back to the 5 signs of life. To get to the adaptation stage, you have to finish assimilation and excretion first, which means you have to be intentional about what you're putting in your body (ie: healthy food) to ensure it can be supported in the best way possible for assimilation. It's also important to minimize toxicity through excretion so nothing stands in the way of proper functioning. The last and most important key to adaptation is to take care of your spine and nervous system. By getting your spine checked regularly, we can remove interference in the body and help it function at its full potential.
Learn more about how to relieve seasonal allergies naturally by listening to today's new episode! Available now on Apple Podcasts, Spotify & more!
*Disclaimer: MaxLiving chiropractors don't treat allergies or any disease process. We look for root cause(s) of dysfunction and empower the patient with resources and action steps to help restore optimal function to the body. We do this through our 5 Essentials approach including chiropractic, functional nutrition, detoxification, movement, and mindset.
The contents of The MaxLiving Podcast and website are strictly for educational purposes and are not intended to be a replacement for professional medical advice, diagnosis, or treatment. Never ignore professional medical advice because of something you heard or read on The MaxLiving Podcast or website. If you have a medical emergency, call your doctor or 911 immediately.
Chiropractic Resources