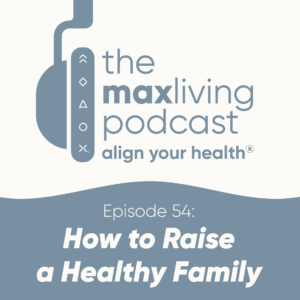 How to Raise a Healthy Family
As a parent, our #1 priority is to keep our kids healthy. What most parents don't realize is though is the majority of the issues adults have were caused by something that happened when they were a child. In today's new episode of The MaxLiving Podcast, Dr. Ryan and Ashley Berlin will explain their action steps for how to raise a healthy family.
Be a Healthy Parent
"The choices you make have a cascading effect on your family," -Ashley. If you choose to eat unhealthy foods, your kids will too. It's important to lead by example for your children so you can all live a happy, healthy life.
Have a Health Doctor
Most pediatricians help kids when they're sick, not when they're healthy. MaxLiving doctors help patients regardless of health status. It's vital your family gets adjusted on a regular basis to make sure the body is functioning and healing at its best.
Follow a Nutrition Plan
What's your family's nutrition plan? If you don't have one, MaxLiving has 2 Nutrition Plans you can easily and regularly follow – the Core Plan and the Advanced Plan.
Be an Active Family
Does your family spend the weekend on the couch watching movies or out and about doing activities? Find an activity the whole family can enjoy, whether it's outdoors, or a quick indoor MaxT3 workout.
Maintain Your Curiosity About Health
You can always learn something new about how to stay healthy. Get plugged into your MaxLiving office and attend events so you can make informed health decisions.
Our MaxLiving doctors are committed to helping families like yours live a healthy life free from interference. Share this with new parents who could benefit from hearing the tips in today's episode! Available now on Apple Podcasts, Spotify, and more.
Chiropractic Resources