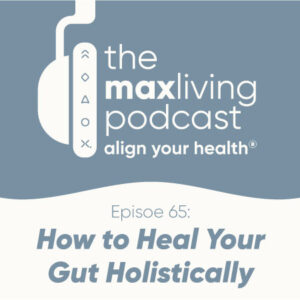 How to Heal Your Gut Holistically
If you have gastrointestinal problems such as frequent upset stomachs, leaky gut, reflux, etc., listen up! Today's new episode of The MaxLiving Podcast will teach you how to heal your gut naturally through learning about the gut-brain connection, the 3R's to gut health & more!
You know what they say, you are what you eat. Everything you put into your body affects the health of your gut. Since your gut is known to be your second brain, we need to feed it with healthy, organic foods rather than processed foods in order for both systems to work properly.
Dr. Ryan and Ashley discuss the best way to take care of your gut is to follow what's called the 3 R's of gut health:
1. Remove
Stop eating foods that are damaging to your gut.
2. Repair
Help to heal the gut with supplements such as Max Cleanse, Max GI, or digestive enzymes.
3. Reinoculate
Get the good bacteria back into your gut with probiotics.
Liked this episode & want to learn more? Our MaxLiving offices across North America are hosting a Gut Health Workshop during the month of August to educate their community on the importance of gut health. Click here to find a MaxLiving office near you for ticket information.
Chiropractic Resources