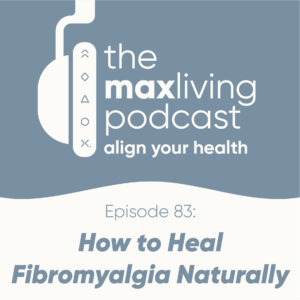 How to Heal Fibromyalgia Naturally
So many times patients with fibromyalgia are told that the only option they have to ease their pain is medication. While medication may seem like a great idea at the time, it can be extremely dangerous and could cause other complications down the road. In today's episode of The MaxLiving Podcast, Dr. Ryan & Ashley Berlin discuss what they believe is the best option to relieve fibromyalgia pain and help heal the body with corrective chiropractic care.
Dr. Ryan explains a research study done by the Journal of Clinical Rheumatology (2022), which concluded that a misaligned neck (specifically the cervical curve) may be a key factor associated with fibromyalgia. For those who are unaware, a normal neck is supposed to be shaped like the letter "C". Unfortunately though, physical, mental and emotional stress can cause the neck to change shape and become straight, creating dysfunction in the body. Luckily for patients with fibromyalgia, chiropractic care may be able to help regain the normal "C" shaped curve by removing interference in the spine and nervous system.
Our MaxLiving doctors across North America have helped thousands of patients experience a life without limits. If you or someone you know has fibromyalgia, be sure to share this episode with them!
For more of The MaxLiving Podcast, listen on Spotify, Apple Podcasts & more.
*Please note: the information shared on this podcast are the opinions/views of the hosts.
The contents of The MaxLiving Podcast and website are strictly for educational purposes and are not intended to be a replacement for professional medical advice, diagnosis, or treatment. Never ignore professional medical advice because of something you heard or read on The MaxLiving Podcast or website. If you have a medical emergency, call your doctor or 911 immediately.