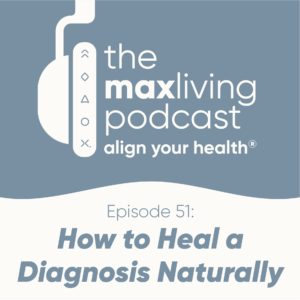 How to Heal a Diagnosis Naturally
Most people when learning their medical diagnosis put their health in the hands of their doctor, letting them decide what options they should take. What people don't realize though is you aren't limited to just drugs and surgery.
Your health is your choice, and if you strive to come out on top over your diagnosis, it's imperative you seek out other options such as learning how to heal a diagnosis naturally. In today's new episode, hear guest host and fellow MaxLiving chiropractor Dr. Cameron Maynard share his story and action steps for how he helped his mother heal naturally from colorectal cancer.
Dr. Cameron's 3 steps for how to heal a diagnosis naturally:
Reflect
While time doesn't seem to be on your side after first hearing your diagnosis, Dr. Cameron strongly suggests that you pause and reflect on what likely caused your condition. By doing so, you can pinpoint the interference and take the necessary steps to remove it. If you skip this step, you run the risk of not getting better due to the fact that you might still be implementing poor habits that continue to damage your health.
Research
After reflecting and being honest with yourself, it's vital to research all possible options and outcomes of your diagnosis. Don't just research the common options that you hear most people do – dig deep and search for natural alternatives.
Go all in
Once you've done your research and have a road map of what you plan on doing, the most important step you can take is to go all in completely and commit to your plan. Block out the noise and opinions of those who tell you what you're doing is wrong and instead, prove them wrong. The best results happen when you give all your effort to it.
Know someone battling a health problem that could benefit from listening to today's episode? Share it with them! Available now on Apple Podcasts, Spotify, and more.
*Disclaimer: MaxLiving chiropractors don't treat cancer or any disease process. We look for root cause(s) of dysfunction and empower the patient with resources and action steps to help restore optimal function to the body. We do this through our 5 Essentials approach including chiropractic, functional nutrition, detoxification, movement, and mindset.
The contents of The MaxLiving Podcast and website are strictly for educational purposes and are not intended to be a replacement for professional medical advice, diagnosis, or treatment. Never ignore professional medical advice because of something you heard or read on The MaxLiving Podcast or website. If you have a medical emergency, call your doctor or 911 immediately.
Chiropractic Resources