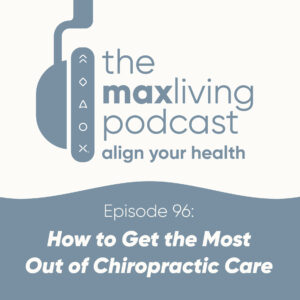 How to Get the Most Out of Chiropractic Care
While you may think all chiropractors do the same thing, or offer the same quality care, that isn't the case. MaxLiving Chiropractic doctors spend countless hours training on processes and procedures that help their patients heal and function optimally. When it comes to the outcomes of a patient's care though, MaxLiving chiropractor Dr. Ryan Berlin and his wife Ashley say that there are 3 key components that influence how effective a patient's chiropractic care will be. Tune in to today's new episode of The MaxLiving Podcast to learn how to get the most out of your chiropractic care.
No matter if you're a new corrective chiropractic care patient, or a long time maintenance chiropractic patient at your re-evaluation, these questions will still influence your results.
How frequently are you supposed to be getting adjusted? How often are you actually getting adjusted?
The answers to these two questions can tell our doctors a lot about how committed the patient is to getting their results. For example, if the doctor recommends you come in three times a week for corrective care and you're only coming in once a week, that's a problem.
Are you doing your prescribed homecare exercises?
Dr. Ryan says that "50% of the results that happen in our office come from people that are doing the work at home." That means if a patient is coming in for their adjustments but not doing their homecare, they'll most likely only see a portion of their desired results compared to optimal results if they were doing their homecare exercises.
What unhealthy lifestyle habits are you working to change in order to keep your spine and nervous system functioning properly?
If you're sitting bent over at a desk for 40+ hours a week, sleeping on your stomach, etc. it could be damaging to your spine & nervous system. Put the time in to make lifestyle changes so that all the work you're doing at the chiropractic office to remove interference doesn't go to waste.
We hope today's episode gave you some insight on how these questions and answers could influence the outcome of how well your body heals with chiropractic care.
Hear previous episodes of The MaxLiving Podcast by searching for our show on your favorite podcast app!
*Please note: the information shared on this podcast are the opinions/views of the hosts.
The contents of The MaxLiving Podcast and website are strictly for educational purposes and are not intended to be a replacement for professional medical advice, diagnosis, or treatment. Never ignore professional medical advice because of something you heard or read on The MaxLiving Podcast or website. If you have a medical emergency, call your doctor or 911 immediately.
Chiropractic Resources