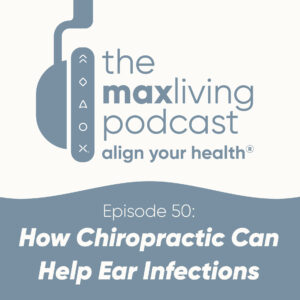 How Chiropractic Can Help Ear Infections
Nothing's worse than seeing your child in pain from an ear infection and not knowing how to help them. In today's episode, Dr. Ryan and Ashley Berlin discuss how chiropractic care can help ear infections, as well as natural remedies to heal otitis media (ear infections).
According to the Boston Children's Hospital, 80% of children have been diagnosed with at least 1 ear infection by the time they are 3 years of age. The traditional route people take when their child has an ear infection is to take them to a doctor, leaving only 2 treatment options available: antibiotics or tubes put in the ears. Although these may seem reasonable, what you don't realize is that they aren't fixing the root cause of the ear infection.
Spinal misalignment (otherwise known as subluxation), creates interference such as ear infections in the body. This puts pressure on the nerves causing the ear to not function properly. Dr. Ryan mentions a study published in the Journal of Clinical Chiropractic Pediatrics where researchers found there was a strong correlation between chiropractic adjustments and healing of otitis media.
If you know someone who struggles with ear infections, share this episode with them – it could change their quality of life for the better! Available now on Apple Podcasts, Spotify, and more!
*Disclaimer: MaxLiving chiropractors don't treat ear infections or any disease process. We look for root cause(s) of dysfunction and empower the patient with resources and action steps to help restore optimal function to the body. We do this through our 5 Essentials approach including chiropractic, functional nutrition, detoxification, movement, and mindset.
Chiropractic Resources
To read more about the chiropractic research talked about in today's episode, check out A Comparative Study of the Health Status of Children Raised Under the Health Care Models of Chiropractic and Allopathic Medicine.
To find a doctor near you, visit maxliving.com/locations.
For additional holistic health content, follow us on Instagram @maxlivingofficial and Facebook @maxliving.