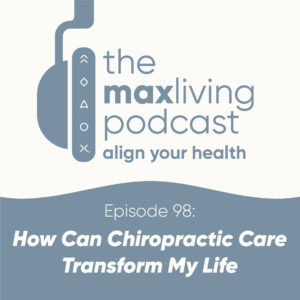 How Can Chiropractic Care Transform My Life?
Our MaxLiving Chiropractic Clinics see miracles happen in their office everyday. Now you may be wondering – how can chiropractic care change someone's life? By finding the root cause of our patients' health problems, we may be able to help improve the functioning and healing of the body.
You see – chiropractic is centered around your spine and nervous system which are the core of all of your body's functions. When there's interference in the spine and nervous system, your body can't function as it's supposed to since communication from the brain to the body is disrupted. Through the use of x-rays and nerve scans, we can help pinpoint the interference in the body and perform unique chiropractic adjustments to restore healing. Tune in to today's episode to hear real stories from MaxLiving Chiropractic patients about how living a 5 Essentials lifestyle has transformed their wellbeing.
"There's no better time to change your life than right now," -Ashley Berlin. If the testimonials shared in today's episode made you think of yourself, a friend, or even a family member who struggles with their health, it's time to do something about it. Investing in your health now will only help you in the future and we're here to help. Take the first step by finding your local MaxLiving location.
*Please note: the information shared on this podcast are the opinions/views of the hosts.
The contents of The MaxLiving Podcast and website are strictly for educational purposes and are not intended to be a replacement for professional medical advice, diagnosis, or treatment. Never ignore professional medical advice because of something you heard or read on The MaxLiving Podcast or website. If you have a medical emergency, call your doctor or 911 immediately.
Chiropractic Resources