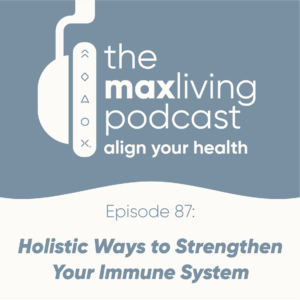 Holistic Ways to Strengthen Your Immune System
During the winter months it can feel almost impossible to stay away from sickness, but the good news is there's action steps you can take on a daily basis to protect yourself from it. If you're looking for holistic ways to strengthen your immune system, don't miss today's episode of The MaxLiving Podcast!
Hosts Dr. Ryan and Ashley Berlin's top piece of advice to improve immune system function is to increase your visits to the chiropractor. "Germs don't make people sick, weak immune systems do. And your immune system is weaker when there is stress from subluxation interfering with your nervous system's ability to control the immune system," -Dr. Ryan Berlin. By getting adjusted more frequently, you can ensure your nervous system and immune system can heal and function properly.
While chiropractic care is a great first step, the Berlin's suggest a few other options to improve your immune system function. Since nutrition plays a pivotal role in the overall health of your body, it's important you include the top 5 immune boosting foods into your diet such as healthy fats, berries, citrus, garlic, and protein. Another easy addition to your routine is adding supplements such as IM Support, Vitamin C Complete and Vitamin D.
To learn more about the reasoning behind how these foods and supplements support immune health, listen to the full episode on Spotify, Apple Music & more.
*Please note: the information shared on this podcast are the opinions/views of the hosts.
The contents of The MaxLiving Podcast and website are strictly for educational purposes and are not intended to be a replacement for professional medical advice, diagnosis, or treatment. Never ignore professional medical advice because of something you heard or read on The MaxLiving Podcast or website. If you have a medical emergency, call your doctor or 911 immediately.