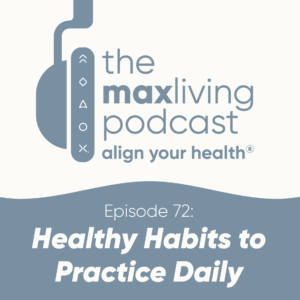 Healthy Habits to Practice Daily
As a society, we don't do a great job taking care of ourselves on a daily basis. We tend to get lazy and fall into a routine of doing the same things over and over again, without thinking about the consequences it may have on the body. Whether we realize it or not, "all of us have the obligation to learn how to take care of ourselves," says Dr. Sachin Patel. All it takes is being intentional about implementing those healthy habits into your daily routine.
On this week's guest episode of The MaxLiving Podcast, Dr. Ryan and Ashley Berlin are joined by chiropractor, functional medicine doctor, and author, Dr. Sachin Patel. Tune in to hear them discuss healthy habits to practice daily such as breathwork, grounding, & more!
Like this episode? Leave us a rating on Spotify, Apple Podcasts, or wherever you listen to our show!
*Please note: the information shared on this podcast are the opinions/views of the hosts.
The contents of The MaxLiving Podcast and website are strictly for educational purposes and are not intended to be a replacement for professional medical advice, diagnosis, or treatment. Never ignore professional medical advice because of something you heard or read on The MaxLiving Podcast or website. If you have a medical emergency, call your doctor or 911 immediately.
Chiropractic Resources