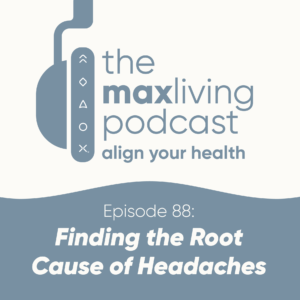 Finding the Root Cause of Headaches
As 2022 comes to a close, we thought it would be fitting to look back at some of our favorite episodes throughout the year. Since a high volume of people experience symptoms such as headaches, today's episode will be a repost of episode 47, "Tension Headache Relief." Hear Dr. Ryan and Ashley Berlin discuss how to get to the root cause of your headaches, and how chiropractic care may be able to relieve your headaches.
If you enjoyed this episode, be sure to leave us a review wherever you listen to your podcasts.
*Please note: the information shared on this podcast are the opinions/views of the hosts.
The contents of The MaxLiving Podcast and website are strictly for educational purposes and are not intended to be a replacement for professional medical advice, diagnosis, or treatment. Never ignore professional medical advice because of something you heard or read on The MaxLiving Podcast or website. If you have a medical emergency, call your doctor or 911 immediately.