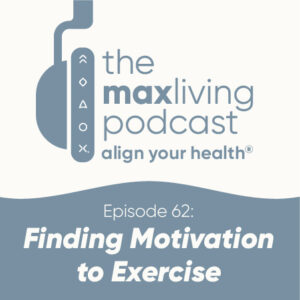 Finding Motivation to Exercise
Moving your body is an extremely important aspect of staying healthy but unfortunately, a lot of people skip it. If you find yourself saying, "I don't have time to exercise," "I have a bad knee," "I'll do it tomorrow" or "the gym is too far," today's episode is a must-listen. Hear former Crossfit gym owners, Dr. Ryan and Ashley Berlin explain how to get off the couch and find motivation to exercise.
No matter your age, health, or shape – it's never too late to start exercising. While that may sound intimidating, it's not what you think. Exercise for everyone doesn't mean running a marathon, it means intentionally moving, sweating, and ridding your body of toxins everyday. Dr. Ryan says that one of the worst things you could do for your health is to stop moving your body because it slows you down and may cause your health to decline. Instead, keep exercise…
Simple


Fancy workout equipment isn't always needed to get the job done. Make things simple by using the equipment you have on-hand at home.
Fun


Don't force yourself to run if you hate running. Instead try doing a workout you enjoy such as Zumba, biking, or swimming.
Easy/Accessible


When you're not motivated to exercise, make the components that go into exercising so easy that you can't pass it up. Is your gym a mile down the road? Did you set out your exercise clothes the night before? Do you have weights sitting in your room?
The exercise program we as MaxLiving believe meets all those criteria is MaxT3. MaxT3 is a high intensity interval training program (HIIT) which can help you get maximum results in just 12 minutes. This short, yet effective at-home workout focuses on 3 principles of type, time, tempo and can be adjusted to secure specific results. If you're someone with a super busy schedule, looking to maintain your health but also spend quality time with your family, MaxT3 is the answer.
The contents of The MaxLiving Podcast and website are strictly for educational purposes and are not intended to be a replacement for professional medical advice, diagnosis, or treatment. Never ignore professional medical advice because of something you heard or read on The MaxLiving Podcast or website. If you have a medical emergency, call your doctor or 911 immediately.
Chiropractic Resources