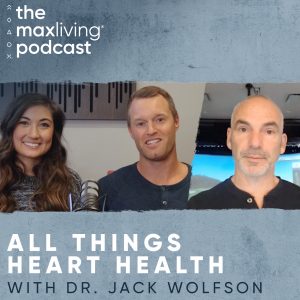 All Things Heart Health with Dr. Jack Wolfson (Part 1)
Holistic cardiologist Dr. Jack Wolfson guest hosts alongside Dr. Nick Wilson and Dr. Traci Gross in this episode of The MaxLiving Podcast about all things heart health.
Dr. Jack Wolfson completed 10 years of traditional medical training before finding his calling in natural health. While working in Arizona, he met a Doctor of Chiropractic that opened his eyes to the possibility of becoming a "Doctor of Cause."
Dr. Jack Wolfson realized that health is about more than treatment in a hospital, it is about living a healthy lifestyle, which is what he speaks to in this heart-health-focused episode of The MaxLiving Podcast.
One of the things that Dr. Jack prescribes to his patients that breaks the norm of medical cardiological treatments is Chiropractic treatment. When Dr. Jack receives a new patient with high blood pressure, high cholesterol, or other heart health risks, he sends them to receive regular Chiropractic treatment, which studies show can directly affect blood pressure and even overall heart health. Though this may seem unconventional to some, the reality is that Chiropractic may be able to help regulate health throughout the body in a natural, effective manner.
When it comes to different kinds of doctors and different kinds of treatment, Dr. Jack believes in a system of practice where Chiropractic care becomes a 'gateway' to specialized care. In other words, Chiropractic offers the basic essentials of care that everyone needs to support their health in the long term, naturally.
In this episode, learn about the things in your environment and lifestyle that may lead to health concerns. Toxins, poor diets, poor sleep, and a lack of exercise can all have negative effects on heart health.
Dr. Jack's formula for heart health and longevity is depending on the right food, the right sleep patterns, and the right environment. This means minimizing toxins, avoiding unhealthy foods, and getting good, quality sleep.
When it comes to diet, we can easily take steps today to make positive changes. There are hundreds of different diets, but the first step is removing chemicals from the food we eat every day. Choose natural, grass-fed, wild-caught, and organic foods!
The episode discussed the concept of "cardio-toxic" and the ways that toxins can affect the heart. And where do many of these toxins come from? Our food! When you go to the grocery store next, you can support your natural health and perhaps be able to turn around your heart health by choosing natural, healthy, toxin-free foods.
To find out the kinds of foods you need to support your health and learn more about the reality of maintaining your heart health, tune in to this exciting new episode of The MaxLiving Podcast.
Support your heart health naturally with our Cardiovascular Wellness Bundle: https://store.maxliving.com/products/cardiovascular-wellness-bundle
Subscribe today via Apple Podcasts or your favorite podcast app.