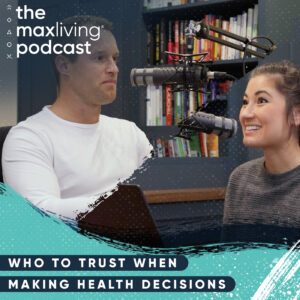 Who to Trust When Making Health Decisions
In this week's new episode of The MaxLiving Podcast, Dr. Nick Wilson and Dr. Traci Gross talk about who to trust when making your health decisions.
Unfortunately, a lot of information people share about health has been censored, making it hard to find the truth. This causes people to trust the first thing they read on the internet, which is concerning since the source of the information might not be credible.
According to Dr. Nick, the best way to check if the source of a health claim is credible is to look at that person's track record to see their outcomes. For example, if you're trusting the Centers for Disease Control (CDC), you should note that their track record for health in the U.S. is not as it may seem.
Dr. Nick mentions that in the past 60 years, our health problem statistics have increased dramatically. He says that "we have the worst health outcomes," due to the fact that we don't know what health is or where it comes from.
We can fix this problem though by getting curious about our health and finding the root cause of the problem rather than trusting the first thing that pops up on our Google search. At the end of the day, health isn't defined by how you look or feel, but how you take care of yourself.
You have to identify who you trust first, and make your health decisions on what you feel is best for you and your body. By doing so, you can live your best life without limitations!
Our MaxLiving clinics across the nation are ready and willing to help you find credible sources you can trust. Feel free to reach out to a MaxLiving office near you to see how we can assist you: https://maxliving.com/locations/
Have a question you want to ask Dr. Nick and Dr. Traci? Submit an audio recording of your question below to have it answered on an upcoming episode of The MaxLiving Podcast! https://dr-wilson.com/podcast/
Subscribe today via Apple Podcasts or your favorite podcast app.