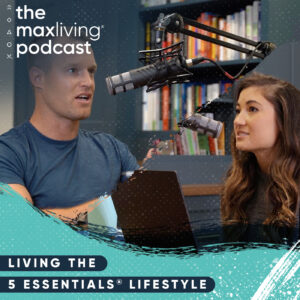 Living the 5 Essentials® Lifestyle
In this week's episode of The MaxLiving Podcast, Dr. Nick Wilson and Dr. Traci Gross talk about how to live your best life through the 5 Essentials.
The first essential they mention is "Mindset," which is key to achieving true health. If you want your health to change, you have to realize that what you were doing before wasn't working. By making this mindset switch and committing to a new way of living, you'll be on your way to making a positive change.
Read more about mindset here: https://maxliving.com/five-essentials/mindset/
Next, "Minimizing Toxins" is one that people often overlook since they don't realize just how much of an impact toxins play on their health. Whether it's the drugs we take, products we use, or food we eat, toxins are extremely harmful. Dr. Nick reminds viewers that "what goes on the skin goes into the body," meaning that personal care products such as makeup, antiperspirants, and fragrances all can cause harm to the body.
Although completely eliminating toxins sounds like a better option than just minimizing your exposure, it's utterly impossible to get away from them. Toxins surround us in everything we do, whether we know it or not, so it's important to minimize exposure to the known elements and detoxing your body to get rid of it.
Learn how to minimize toxins here: https://maxliving.com/five-essentials/minimize-toxins/
"Nutrition" is the next essential, which focuses on what Dr. Nick calls, "food by God." Food by god eliminates sugar, and bad fats, while focusing on fruits and vegetables in order to raise glutathione levels.
Read about the importance of nutrition here: https://maxliving.com/five-essentials/nutrition/
"Oxygen & Exercise" doesn't have to be as intimidating as it sounds. By engaging in high intensity, short duration exercises, such as our Max T3 program, you can get the workout your body needs to thrive!
Find the benefits of exercise here: https://maxliving.com/five-essentials/oxygen-and-exercise/
Finally, the core of our 5 Essentials is "Core Chiropractic," which puts the health of your spine and nervous system at the forefront by correcting spinal abnormalities to eliminate interference and unlock your full potential.
Learn the benefits of chiropractic care here: https://maxliving.com/five-essentials/core-chiropractic/
At MaxLiving, we provide a different form of healthcare that allows you to maintain health for the rest of your life. By following our 5 Essentials, you can become the person you've always wanted to be.
Prioritize doing good for yourself today, so that you can be changed tomorrow. Find a MaxLiving clinic near you to learn more about how the 5 Essentials can change your life: https://maxliving.com/locations/
Subscribe today via Apple Podcasts or your favorite podcast app.