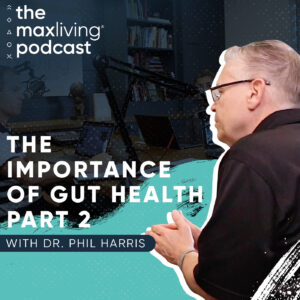 The Importance of Gut Health Part 2
This week's episode of The MaxLiving Podcast is a continuation of last week's episode about gut health, featuring special guest, Dr. Phil Harris.
The thing that a lot of people don't realize is that your gut health has a significant impact on your overall health and wellbeing. Therefore if you don't feed and take care of your gut, your health may diminish. Dr. Phil talks about the term "dysbiosis" which is essentially a balance the gut has in order to function properly. If the balance is disproportionate, the gut will suffer, causing other issues to start.
Dr. Phil states there are 3 main things that mess the gut up: antibiotics, sugar, and alcohol. He explains that antibiotics create a dysbiosis problem because they destroy the good bacteria in the gut. Since the body has the ability to heal itself, eliminating these antibiotics would avoid the problem of destroying these good bacteria. Sugar on the other hand is in almost everything we eat, whether we are aware of it or not. Not only can it cause nutrient deficiencies, but it can also "deplete and reduce the absorption of several essential vitamins and minerals in the body," (Dr. Phil). Alcohol is very damaging to our gut as well, being that it's one of the top 3 most acidic things you can consume in your body.
When it comes to talking about gut health, we have to analyze what we're consuming on a regular basis. If you want to make a change for the better, you have to find the root cause rather than treating a symptom. For example, if you have a headache, you shouldn't just take medicine to fix that symptom, you need to find the root cause of the headache. In this case, you need to look at what you're feeding your gut. If it's one of the top 3 disruptors that mess up the gut (antibiotics, sugar, or alcohol), we need to do something about it before it causes more than just a headache.
If you regularly are consuming one or more of these gut disruptors, that doesn't mean you have to cut them out of your diet completely. Dr. Traci explains that the easiest way to "break a habit is by replacing it with something else." Dr. Phil says that the first step to doing this is to realize that the approach you've been taking was wrong so you can be open to a new approach. We also have to respect the body's innate intelligence. If we feed our body with toxic antibiotics, we aren't letting the body do what it's naturally made to do. Through understanding this, we can give our body the tools it needs to function at its optimal potential.
If this episode made you want to learn more about gut health, our MaxLiving clinics across the United States are hosting an extreme health makeover called "Love My Guts" this month! This will allow you to dig in and learn helpful information about how to fuel your body with what it needs in order for you to live your healthiest life. Contact your MaxLiving office or find a clinic below for more information about Love My Guts!
Find a clinic near you: https://maxliving.com/locations/
Shop our Advanced Gut Health Bundle.
Subscribe today via Apple Podcasts or your favorite podcast app.