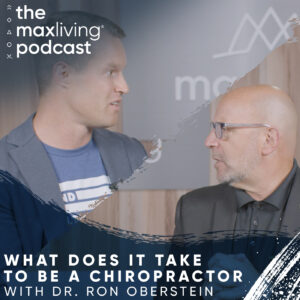 What Does It Take to Be a Chiropractor? with Dr. Ron Oberstein
Today in this special episode of The MaxLiving Podcast, host Dr. Nick sits down with leading Chiropractor and President of Life Chiropractic College West, Dr. Rob Oberstein.
Life Chiropractic College West is a private college in Hayward, California is known for its Doctor of Chiropractic degree program, and has been accredited since 1987 by the Commission on Accreditation of the Council on Chiropractic Education and by the California Board of Chiropractic Examiners.
In addition to his service as President of Life Chiropractic College West, Dr. Rob has decades of experience as a practicing Chiropractor and is seen as one of the leaders of Chiropractic in North America.
In this episode. Dr. Ron shares what it takes to become a Chiropractor, what made him choose the path of Chiropractic, and the potential Chiropractic Care has to change healthcare for the better.
When asked about what it takes to be a chiropractor, Dr. Ron says that first and foremost, one must have "the heart to serve." He explains that Chiropractic is more than a career, and is in fact a calling that takes years of study and a dedication to providing health and wellness.
What very few people know is that Chiropractors go through years of arduous study, learning many of the same subjects as medical doctors. What sets Chiropractors apart from medical doctors, then, is not what they learn, but how they learn. As Dr. Ron explains, "we learn it in a different way," focusing on Salutogenesis, which is the focus on factors that support human health and well-being, rather than focusing on factors that cause disease (otherwise known as pathogenesis).
As Dr. Ron explains, the process of becoming a Chiropractor is not severely limited by past studies, though a prior college degree is often required. However, as has recently become apparent in traditional medical students as well, an undergraduate degree in the sciences does not necessarily guarantee success in medical school. In fact, outside experiences and perspectives can inform medical and Chiropractic students alike, creating a diverse and well-rounded collection of health-minded professionals.
Find out more about what it takes to become a Chiropractor: https://maxliving.com/healthy-articles/exceptional-chiropractic-care-begins-with-training/
Dr. Ron stresses the need for balance between traditional medical practices and the health-centered focus of Chiropractic care. As he says, "we all have to work together." When you hurt your arm, you go to the nervous system, and then you need to visit your Chiropractor to care for your nervous system and help its ability to support smooth and fast healing.
The underlying approach to Chiropractic and health is that "this body was born perfectly," and Chiropractors "work with that intelligence so that the body can heal itself," focusing on what's right with the body vs. what's wrong with the body.
Dr. Nick asks Dr. Ron about his perspective on the role of Chiropractic in healthcare, the balance of emergency care versus preventative care, and the idea that Chiropractic care should be a part of your healthcare "from the womb to the tomb."
Both Doctors stress the need for Chiropractic in the world, and Dr. Ron discusses his educational insights into the growth of Chiropractic care in the future. As Dr. Ron and Dr. Nick state, "we need more Chiropractors" and "we need more people seeking them out."
Tune in to this exciting new episode of The MaxLiving Podcast to find out everything you need to know about Chiropractic, natural health, and more!
Find out more about Life Chiropractic College West: https://lifewest.edu/
Subscribe today via Apple Podcasts or your favorite podcast app.